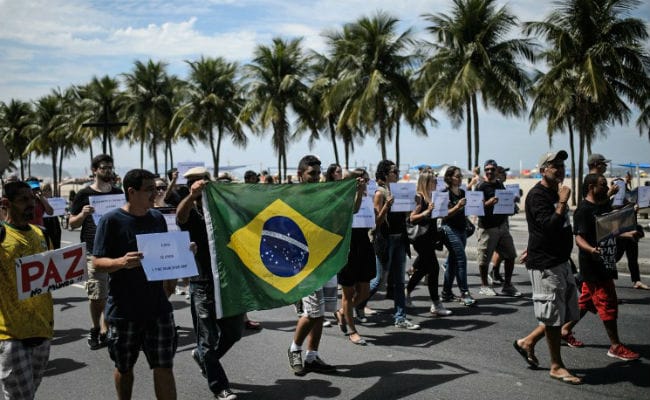 Sao Paulo, Brazil:
Brazil's three southernmost states held an informal referendum-style vote on independence for the region Saturday, taking inspiration from the turbulence in Spain's Catalonia.
The bid to break the states of Parana, Rio Grande do Sul and Santa Catarina from the far larger mass of Brazil has no legal standing. Turnout is expected to represent only a fraction of the trio's combined population of approximately 29 million.
However, organizers of the poll say the desire to be free from the rule of the corruption-riddled government in Brasilia is strong and genuine.
The group behind the movement, The South is My Country, said it hopes for at least one million voters to take part, up from 600,000 in an initial informal plebiscite held last year.
Some 20,000 volunteers were signed up to help conduct the poll, which uses paper ballots and asks the question: "Do you wish Parana, Santa Catarina and Rio Grande do Sul to be an independent country?"
'Enough of Brasilia'
The three states -- with borders on Argentina, Paraguay and Uruguay -- form a generally wealthier, whiter and colder region, compared to the tropical remainder of the country.
Separatist leaders say the region -- home to about one in seven Brazilians -- is unfairly forced to pay far more in taxes than it receives in government funding.
"Basta de Brasilia," or "Enough of Brasilia," is one of the movement's main slogans.
"The Southern People never had the opportunity to express their opinion whether or not they would like to remain Brazilian," the group's mission statement says, adding that The South is My Country "is providing this opportunity."
Brazil's constitution bars separatism, but organizers take heart from the efforts in Catalonia to break away from Spain in a referendum held October 1 despite being ruled illegal by the central government in Madrid.
The South is My Country also hopes to benefit from nationwide disgust with the center-right government of President Michel Temer, which a recent poll found is seen as doing a good or very good job by only three percent of the population.
Catalonia's vote sets "a marvelous international precedent for all peoples," Celso Deucher, leader of The South is My Country, said in a video on the group's Facebook page.
Results are expected to be published by early Sunday.
(Except for the headline, this story has not been edited by NDTV staff and is published from a syndicated feed.)