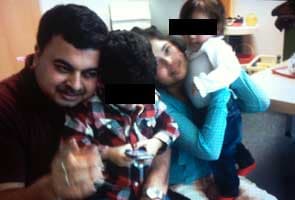 Oslo:
As the Bhattacharyas wait for Norway to take a decision on the return their children to India, more people are speaking out against the foster care system in Norway. Activists say a very large number of children are taken away from their families every year and many expats lose their children forever because they are not as lucky as the Bhattacharyas to get the state's intervention.
According to Norwegian activists, the Bhattacharyas are not the only ones to land into trouble with the Child Welfare Services. The number of children being put in foster homes goes over a thousand a year, says Berit Aarset, who heads Human Rights Alert Norway. She says children are put in foster homes after their biological parents are framed on false charges.
She says, the UN has been criticizing Norway since 2003 for the fact that too many children are in foster homes and institutions, without the Norwegian government having shown any signs of changing this practice. Ms Aarset believes keeping the children against their parents will is state kidnapping and adds, "This is not the first time such a thing is happening in Norway, the legal system favours the child welfare services and they do what they want, all the time (sic). Quite often, when a Norwegian is married to a non-Norwegian, they do the same thing. They also do this to asylum seekers and in almost every case they say one of the parents have a mental problem just to make their case strong. That's what has happened in the Bhattacharya case too. They do this to ethnic Norwegians parents too."
"This Indian couple comes from an educated family and am sure they can take good care of their children very well," she added.
Foster families get a monthly salary of 26, 000 Norwegian Krones (almost Rs 2.5 lakh). They also get paid holidays, allowances for building their houses or buying an extra car as well as pension entitlement. Foster homes also generate extra income and extra jobs for social workers. Stavanger, the city where the Bhattacharyas live, has an annual budget of 170 million NOK and their biggest expense is foster care.
Many parents in countries such as Poland, Russia, Turkey and Sri Lanka claim their children were wrongfully taken away. But this is the first time there has been a diplomatic intervention. The case has become very high profile. The chief of the child welfare service in Stavanger, Gunnar Toresen, says this is unprecedented for them. He does admit that they make mistakes with both Norwegian and foreign families, but believes that the legal system ensures that the families rights are not violated "It would be a lie to say that I don't feel the pressure" he says, "but I also support that this process has to be a decent process'
Most Norwegians speak highly of child care systems. They say putting children in foster homes is not the only thing child welfare services do. They also provide a great deal of support to parents. Annika, who works for an oil company says, for most Norwegians the idea is to give equal rights to children even if their parents don't have resources. She says that most Norwegians trust the Child Welfare Services.
But immigrant families living in Norway have a different point of view. They don't place the same kind of trust in the child welfare services. They feel far more vulnerable and most are too scared to speak. A Pakistani film maker who has always lived in Norway says there is a major cultural difference. He says the Norwegians are worried because there are "more and more families are streaming in from countries where socio economic conditions are not good." For many of these people, just like in many Asian countries, several people sleeping in one room is not a problem. But by Norwegian standards, one child should get one separate room. "They don't understand we do it out of love," he says.
The system seems to be working well in general for Norwegians but they will have to perhaps re-evaluate it with immigrants in mind. The Bhattacharyas who are from a well off family, have now been separated from their kids for 9 months. Norwegian authorities say their decision will not come before the end of March.