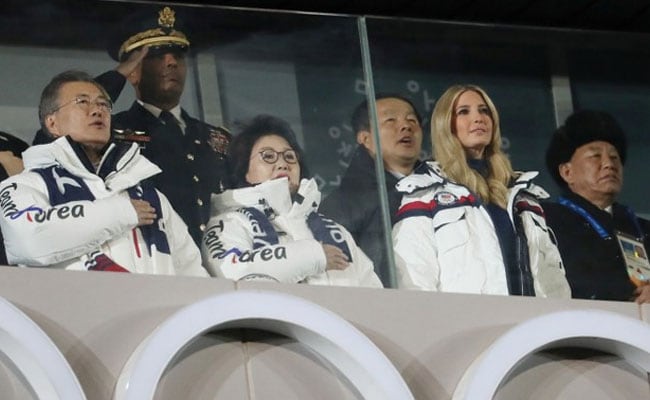 Seoul:
North Korea is willing to hold talks with the US, South Korea says. The announcement came after Gen. Kim Yong-Chol, who headed North Korea's delegation to the closing ceremony of Winter Olympics in Pyeongchang, met South Korean President Moon Jae-In before the closing ceremony of Olympics, BBC reported on Sunday.
The US state department responded by saying nuclear disarmament must be the end goal of "any dialogue".
"We will see if Pyongyang's message today, that it is willing to hold talks, represents the first steps," it said in a statement.
Pyongyang has not confirmed the offer, but it has often said it is willing to talk without any preconditions.
US President Donald Trump's daughter Ivanka Trump also attended the closing ceremony, but she is not expected to talk with any North Koreans, even though she sat a few feet from Gen. Kim at the Olympic Stadium.
The Korean peninsula has been divided since the 1950-53 war and the two sides have never signed a peace treaty.
The rapprochement between the two Koreas has been seen as a move by the North to drive a wedge between the South and the US.
Experts have cautioned that the latest developments do not put an end to underlying regional tensions, particularly following last year's nuclear and missile tests carried out by the North.
The Pyeongchang Winter Olympics ended as it started with geopolitics being played out in a packed stadium and in front of a global television audience.
The US president's daughter, Ivanka Trump, sat one row in front of North Korean general Kim Yong-Chol. Two seats down from him was Gen Vincent Brooks, commander of US forces in South Korea and in the middle of them all - Moon Jae-in, giving handshakes all round.
South Korea's President Moon has tried to bring Washington and Pyongyang together at these Olympics. He's met two rounds of delegations from both countries and his message has been clear: You need to talk.
We could be some way off any major discussions between them -- we have heard of the North's readiness to talk to the US before and it's led to nothing. But coming after a period of such high tension on the Korean peninsula, this does seem to show a shift in mood all round.
And, if there is a breakthrough of sorts, many will remember President Moon's Winter Olympic strategy as the time it all began.
While South Korea's President held out a hand to Gen. Kim, not everyone in his country was as accepting.
Gen. Kim has been accused of orchestrating attacks on the Cheonan warship and Yeonpyeong Island in 2010, leading to the death of 46 South Korean sailors.
He arrived in the South with families of the victims and conservative lawmakers trying to block his entry.
According to Moon's office, he said North Korea was "very willing" to hold talks with the US.
It added that the North had "agreed that inter-Korea talks and North-US relations should improve together".
The revelation from the South Korean presidency came hours after a furious statement from the North that described fresh sanctions announced by Washington as "an act of war".
Pyongyang's foreign ministry praised the way the two Koreas had co-operated together during the Olympics, but said the US had "brought the threat of war to the Korean peninsula with large-scale new sanctions" just as the Games were coming to a close.