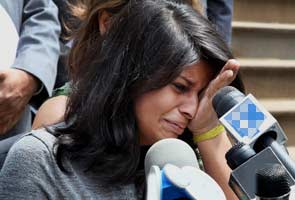 Washington:
The US government has joined issue with an Indian diplomat's daughter who is suing New York city for a whopping $1.5 million for false arrest, saying family members don't enjoy diplomatic immunity.
Krittika Biswas, an 18-year-old student of John Bowne High School and daughter of Debashish Biswas, vice consul (administration) at the Indian Consulate General in New York, filed a notice of claim May 6.
She said her claims of diplomatic immunity were ignored when she was handcuffed and locked up for more than 24 hours Feb 8 after a shoddy probe by administrators into alleged obscene emails sent to two teachers in her school.
"My understanding is that as a family member of consular officer, rather, she does not enjoy immunity from jurisdiction or inviolability," State Department spokesman Mark Toner told reporters Wednesday.
"The Vienna Convention on Consular Affairs provides that consular officers are not liable to arrest or detention pending trial, except in the case of a felony where a court warrant is required," he said. "But that provision does not apply to family members."
Toner acknowledged that diplomats' family members carry a diplomatic passport, "but again, our understanding is that these provisions, however, don't apply to their family members and that this is different for consular officers versus those in the embassy".
The spokesman insisted that the incident would not affect US ties with New Delhi saying, "The US-Indian relationship, I would counter, has never been stronger."
"We've got a strategic partnership in place. We're cooperating at an unprecedented level on education and science and technology, as well as economics, trade, health, agriculture.
"You name it - the sector - we're cooperating with India well in it. And this is obviously to the benefit of the citizens of both our countries, rather," Toner said.
Asked if the US had received any communication from New Delhi on the New York incident, the spokesman said: "Not that I'm aware of. But again, this is a matter of ongoing litigation, so I'm limited."