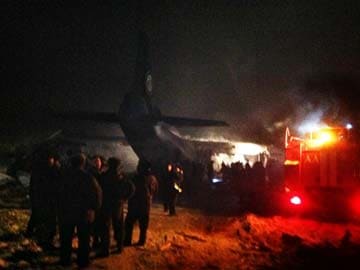 Moscow:
A Russian cargo plane crashed into a military warehouse complex in Siberia on Thursday, killing all nine people on board, the emergencies ministry said.
The Antonov An-12 military transport plane, carrying cargo from the Siberian city of Novosibirsk, crashed into storage warehouses at a military unit near Irkutsk, also in Siberia.
The emergencies ministry said there were nine people on board: six crew and three people accompanying the cargo.
"They all died," it said in a statement.
No injuries were reported among the military personnel on the ground.
A fire broke out at the crash site but was quickly put out, ministry spokesman Andrei Shutov, who visited the site, told AFP. No buildings caught fire, he added.
More than 100 rescue workers were combing through the debris.
The plane belonged to the Irkutsk aviation plant.
Russia has experienced a string of deadly air crashes in recent years, usually involving small and poorly regulated regional airlines that sprang up across Russia after the breakup of the Soviet Union.