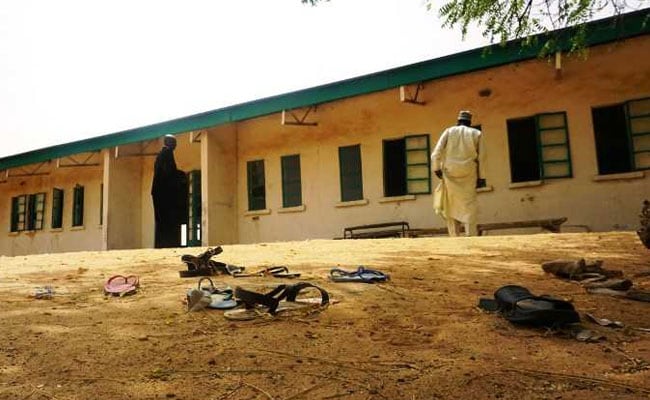 Abuja, Nigeria:
More than 100 girls missing for a week after a Boko Haram attack on their school in northeast Nigeria were kidnapped, the government said for the first time on Monday.
The authorities in Abuja had previously stopped short of saying the 110 students were seized during the raid on the Government Girls Science and Technology College in Dapchi last Monday.
The attack has revived painful memories in Nigeria of the mass abduction of 276 girls from another boarding school in Chibok in April 2014. Nearly four years on, 112 are still being held.
President Muhammadu Buhari said his government was determined to ensure the release of everyone taken by the Islamist militants and to return "the abducted girls to their families".
"This is especially against the backdrop of the recent incident where another group of girls were abducted on January 19 from the Government Girls Science and Technical College in Dapchi, Yobe state," Buhari told a reception in Abuja for former captives of jihadists, his office said in a statement.
Buhari added that he had ordered the country's security agencies to ensure the safety of schools and students.
Shadow of Chibok
Nigeria's reluctance to admit the kidnapping comes in part due to Chibok, whose shadow hung over the previous administration and many believe contributed to its election loss.
Buhari, a former military ruler, was elected in 2015 on a promise to end the Boko Haram insurgency, which since it started nine years ago has claimed at least 20,000 lives.
The abduction in Dapchi comes after repeated claims from the military and government that Boko Haram was on the verge of defeat.
It has led to questions about the extent of the government's grip on security and why promises to improve security of schools appears not to have been implemented, despite Chibok.
Boko Haram, whose name translates roughly from Hausa as "Western education is forbidden", has repeatedly targeted schools teaching a so-called secular curriculum.
The jihadists want to establish a hardline Islamic state in northeast Nigeria.
It has used kidnapping as a weapon of war, seizing thousands of women and young girls as well as men and boys of fighting age.
School closed
Earlier, the education commissioner for Yobe state, Mohammed Lamin, said the school in Dapchi would remain closed as it was "not feasible to reopen (it) in the current situation".
"We still have over 100 girls that are unaccounted for. The other girls that were found are not in the right frame of mind to return to school. They are still in trauma," he told AFP.
Lamin said the school would remain closed "for a while, until the situation normalises and the girls are psychologically prepared to resume".
Buhari said in December 2015 that Boko Haram was "technically defeated" and has called the situation a "national tragedy".
On Friday, parents and locals in Dapchi said they had been left vulnerable to attack because soldiers had been withdrawn in the last few weeks.
Yobe state governor Ibrahim Gaidam on Sunday confirmed the lack of military presence but said he was unaware of the withdrawal and drew comparisons to another school attack in the state.
He said troops pulled out of Buni Yadi on the morning of February 25, 2014, allowing jihadists to storm the boys' boarding school, where more than 40 students were killed.
"Despite the fact that the military personnel are trying their best, they need to do more to contain the situation. There is need for a redeployment of troops," added Gaidam.
The military called Gaidam's remarks "misleading". Troops were redeployed to support comrades stationed on the border with Niger, it said in a statement.
"This was on the premise that Dapchi has been relatively calm and peaceful and the security of Dapchi town was formally handed over to the Nigeria police division," it added.
(Except for the headline, this story has not been edited by NDTV staff and is published from a syndicated feed.)