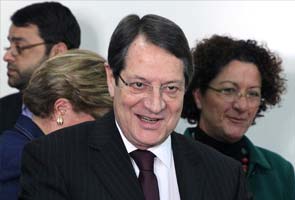 Nicosia:
Rightwing leader Nicos Anastasiades won Sunday's presidential election in Cyprus, tasked with negotiating a crucial bailout for the European Union state on the brink of bankruptcy, exit polls on state television said.
The polls on CYBC state broadcaster, released as polling stations closed in the runoff election, showed Anastasiades clinching 57-61 percent of the vote against an estimated 38-42 percent for communist-backed Stavros Malas.
The announcement sparked instant celebrations with a large crowd gathering outside the offices in Nicosia of the winner's Disy party and supporters honking car horns across Nicosia.