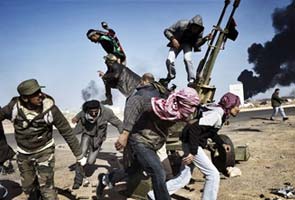 Tripoli:
Fresh tribal clashes erupted today in Libya's remote southeastern desert, with one man saying five members of his clan had been killed, a toll that could not be independently verified.
Clashes between the Zwai and the Toubu tribes in the town of Kufra broke out for a third consecutive day today after 17 people were killed in fierce fighting over the first two days.
Turki Tobawi, from the Toubu tribe, told AFP by telephone that five of his comrades had been killed today, but another member of his clan said there were only injuries reported in the fighting.
Tobawi said his people were surrounded by members of the Zwai tribe.
"We are under siege from all sides. The Zwai tribe is shelling us with heavy weapons," he said.
He charged that Libya's ruling National Transitional Council was backing the Zwai by sending weapons and fighters to their help, which was also confirmed by a source from the Zwai clan.
"The government sent reinforcements to Zwai. Its plan is to exterminate the Toubu tribe," Tobawi said, warning that there was a "massacre happening in which Libyan authorities are participating".
A source from the Zwai tribe said a plane carrying weapons and fighters landed at Kufra airport last night to help its members.
Mohammed al-Harizi, spokesman for the NTC, confirmed today's clashes but said they were of "low intensity and between smugglers helped by foreign elements and thuwar (revolutionaries)."
Fierce clashes between the two tribes on Sunday and Monday left nine Zwai and eight Toubu dead.
Both groups were using light arms when the fighting erupted on Sunday, but the violence intensified, with the two sides firing rocket-propelled grenades and anti-aircraft guns yesterday, sources said.
The Toubu, who are dark-skinned, were discriminated against even under the regime of slain dictator Moammar Gaddafi.
The latest clashes apparently erupted after a young man from the Zwai tribe was killed in Kufra by three dark-skinned men believed to be Toubu three days ago, a Zwai source said.
The Toubu tribe is also present in Niger and Chad. Kufra, with a population of about 40,000 people, is located in a triangle sharing borders with Egypt, Chad and Sudan.
Get the latest election news, live updates and election schedule for Lok Sabha Elections 2019 on ndtv.com/elections. Like us on Facebook or follow us on Twitter and Instagram for updates from each of the 543 parliamentary seats for the 2019 Indian general elections.