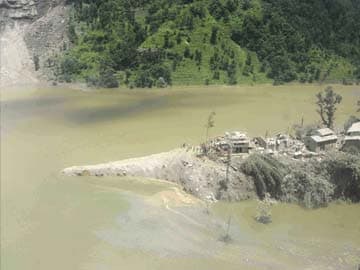 Kathmandu:
The devastating flood and landslide in Nepal have claimed 113 lives so far, authorities said today as rescue efforts were intensified to trace 127 others who are still missing.
Rescuers today found six more bodies from the flood-hit districts in western Nepal, increasing the toll to 113, a Home Ministry official said.
Over 21,000 people have been displaced while 9,612 houses are totally damaged and 10,165 others partially affected after torrential rains last week triggered multiple landslides and flooding, devastating entire villages in two dozen districts.
In the worst-hit districts of Surkhet, Dang, Banke, Bardiya and Jajarkot, relief works have been intensified and clean drinking water kits are being provided to distraught villagers to avert a possible cholera outbreak.
The administration has dispatched teams of health workers along with medicines to the affected areas.
The government has so far distributed relief materials worth Rs 8.1 million to the disaster-hit people. Over 4,000 security personnel have also been mobilised for carrying out rescue works.
Earlier this month, a massive landslide swept away an entire village in the east of Kathmandu, killing 156 people.