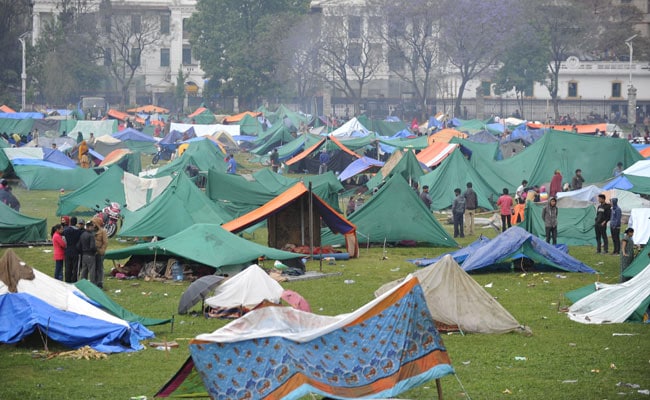 Kathmandu:
The
maidan
(ground) of Tudi Khel in the heart of Kathmandu looked like a picnic spot on Sunday, crowded with tents fashioned out of bright blue tarpaulin. Hundreds of families, children included, cooked food and slept on rugs.
It is no picnic though. These families are all at the massive ground because they either lost their homes to Saturday's powerful earthquake that killed more than 3700 people, or then are too afraid to go back to their damaged homes as aftershocks hit Nepal with alarming regularity.
Thousands flocked here on Sunday afternoon after a particularly big tremor of 6.6 magnitude, turning it into a giant refugee camp. They are devastated, afraid, exhausted and worried that scarce supplies will run out soon.
In the middle of extreme despair, 25-year-old Prajit Lama plays his sitar, the mellifluous notes rising up to soothe frayed nerves and bring some calm to those whose lives have been torn apart by Nepal's worst earthquake in 81 years.
His own house had not been affected in the earthquake. A music student, he says he came to play music at Tudi Khel as it was the largest camp of those affected by the quake. Smiling shyly in the middle of his recital Prajit Lama says, "Music heals, I hope this will help some of the people here forget this sad day."
The Tudi Khel is right opposite a locality called New Road, full of old structures and tightly packed housing colonies. As aftershocks rocked the city, we saw residents flee their homes with bare essentials.
One woman grabbed her little girl with one hand and her pet dog, a Pomeranian, in another and left home barely managing to lock it.
"We are devastated, only God can save us. Please pray for us," a petrified man requested repeatedly.