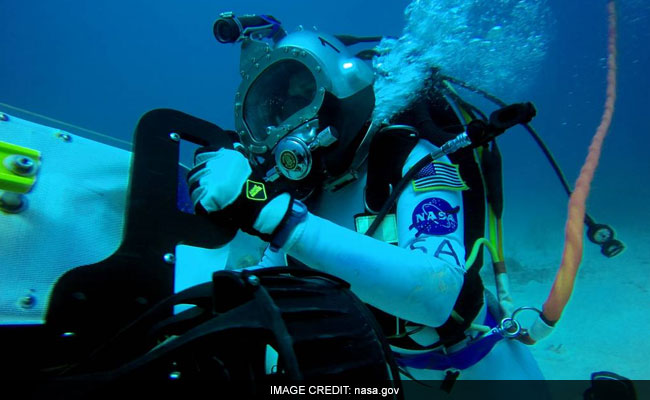 Washington:
NASA has sent a team of astronauts to the bottom of the Atlantic Ocean on a 16-day mission to prepare for future deep space missions and the journey to Mars.
The "aquanauts" were sent to train undersea in simulated space mission as the bottom of a blue ocean and the surface of a Red Planet have something in common- extreme environments.
During the 16-day NASA Extreme Environment Mission Operations (NEEMO) 21 expedition beginning July 21, an international crew will explore tools and techniques being tested for future space exploration by living in simulated spacecraft conditions and conducting simulated spacewalks outside of their undersea habitat, Aquarius, the US space agency said in a statement on Friday.
The Aquarius Reef Base is located 62 feet below the surface of the Atlantic Ocean in the Florida Keys National Marine Sanctuary.
Isolating crew members at the bottom of the ocean simulates life and work for astronauts in microgravity environments like the International Space Station, or in spacecraft that will travel to asteroids and planets in the future, NASA said.
"NEEMO 21 astronauts and crew will pioneer complex tasks on the seafloor utilising the most advanced underwater navigation and science tools which are methodically choreographed to mimic a Mars exploration traverse," said NEEMO Project Lead Bill Todd.
Inside Aquarius, the international crew will conduct a variety of research and operations studies, such as testing a mini DNA sequencer that NASA astronaut Kate Rubins also will be testing aboard the International Space Station, and a telemedicine device that will be used for future space applications.
During their simulated spacewalks, the crew will collect samples for marine biology and geology studies, test software for managing operations, and participate in a coral restoration project.
Throughout many of these tasks, the mission will also test communications delays similar to those that would be encountered on a mission to Mars.
"Equipment can fail, communication can be challenging and tasks can take longer than expected. Other tasks go just as planned. All cases are equally beneficial. It's how we learn and how we are able to assemble all of this together so that someday we're prepared for the unexpected when we are living on and traversing the Martian surface," Todd explained.
(This story has not been edited by NDTV staff and is auto-generated from a syndicated feed.)