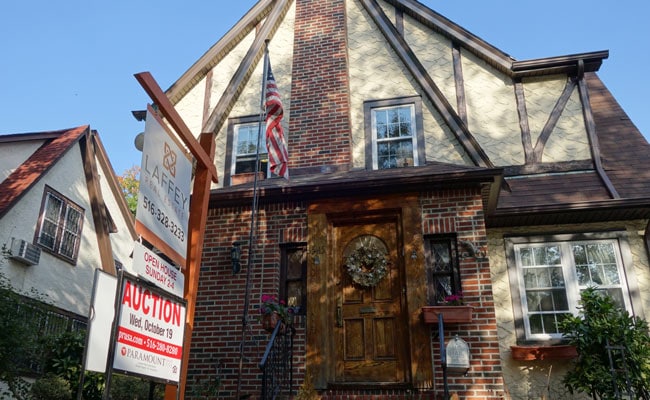 New York, United States:
President Donald Trump's childhood home in the New York borough of Queens has sold for $2.14 million -- a premium price for the neighborhood -- to an unknown buyer.
Built by his father Fred in 1940 in the upmarket enclave of Jamaica Estates, the building served as the president's home for the first four years of his life. The address is listed on his birth certificate.
The two-story mock Tudor-style house embellished with red brick sold at auction in January for 54 percent more than its selling price in December, when a real estate investor paid $1.39 million for it. The latest sale closed last week.
Fred Trump, a real estate developer who made his fortune building low-cost housing, also helped develop Jamaica Estates.
He moved his family to a colonnaded nine-bathroom mansion he built nearby in 1951.
Asked about the house when he appeared on NBC's "The Tonight Show" in September, then-candidate Donald Trump said it was "sad" the building was on sale at the time. "I want to buy it," he said.
Misha Haghani, a principal of the agency that organized the auction, Paramount Realty USA, would not comment about the buyer's identity, saying that did not mean it wasn't Trump himself.
He also declined to reveal the number of offers received for the five-bedroom, 4.5-bathroom, 2,000-square-foot (186-square-meter) house.
Although other comparable buildings in the neighborhood are valued at roughly $1.6 million, the former Trump residence's final price came in lower than the agency had hoped.
Haghani had estimated Trump's fame could push the value above $3 million.
The previous inhabitants -- estranged husband-and-wife Manhattan restaurateurs -- originally aimed to auction the house in mid-October, but withdrew it from the market on the chance Trump's victory in the November election would push up the price.
Positively humble by the lavishly gilded standards of Trump's current penthouse in the Fifth Avenue skyscraper bearing his name, his first home is now nevertheless part of American presidential history.
(This story has not been edited by NDTV staff and is auto-generated from a syndicated feed.)