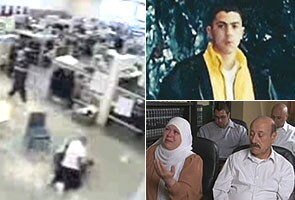 Idaho, US:
On camera, a prisoner in an Idaho jail in America was beaten into a coma by another inmate while prison guards looked on.
Hanni Elabed, who is 24, banged on a guard station window, pleading for help, but no one came to his aid.
His attacker took a breather and began beating an unconscious Hanni for a second time until he got tired.
"I'm imagining him reaching for this door while this guard is on the other side and never once trying to help him," said Zahe Elabed, Hanni Elabed's brother.
Two minutes after he stopped his brutal assault, the prison guards finally entered the cell with handcuffs.
As a result of the attack, Hanni suffered bleeding inside his skull and spent three days in coma.
The footage is a key piece of evidence for critics who have dubbed the Idaho lockup 'gladiator school' because it is so violent.
The footage has prompted a FBI investigation as to whether the guards violated the civil rights of inmates.
"He used to help me in everything but right now he can't do nothing. Nothing. Just sitting, you know. Can't drive, can't swim, can't go camping," said Mohammed Elabed, Hanni Elabed's father.
Elabed, originally sentenced to 2 to 12 years for robbery, was ultimately released on medical parole because he was too badly injured to be cared for in prison.