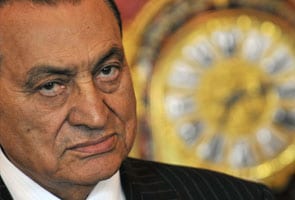 Washington:
US Secretary of State Hillary Clinton has said Egyptian President Hosni Mubarak might not be able to quit his post as early as being demanded by the protesters as the transition process will take some time to roll out.
Clinton described Mubarak's assurance of not running for the presidency again and the dialogue on constitutional reform initiated in the country as "significant actions" but said if Mubarak resigns immediately, presidential election would have to be held in 60 days under the Egyptian constitution.
"He (Mubarak) announced he wouldn't run again. He announced his son wouldn't run again. He announced he was resigning his position of the national party, and his son was resigning his position at the national party. He installed a vice president for the first time in 30 years. Those are significant actions," Clinton told reporters on her way back from international talks on Egypt in Germany.
She said these were only preliminary steps and do not constitute an orderly transition but welcomed the process of dialogue that has started with the opposition.
"... but I think they have to be viewed as a very important set of steps being taken to keep the movement going in the direction that we seek," she said.
Referring to the Egyptian constitution, she said if the President were to resign, he would be succeeded by the Speaker of the house and presidential elections would have to be held in 60 days, and suggested that this is too short a time to arrive at final constitutional reforms.
"Now, the Egyptians are the ones who are having to grapple with the reality of what they must do. And maybe I misheard it, but on CNN this morning... one of the leaders in the Muslim Brotherhood, and Al-Baradei, they were saying, 'Well, it's going to take time. Now, that's not us saying it, it's them saying it," she said.
She said once the protests have gotten the attention of the government and the government has launched a response, there is already an effort underway within the civil society, the opposition, the political parties, to decide the future course of action.
"That's a really hard issue. I don't think it's appropriate for us to be sitting thousands of miles away saying, 'Well, this is what you should do, and that's what you should do', and, 'Oh, everybody knows that's self-evident'," Clinton said.
She said it is for the country of 80 million people, with a very complex political, economic, and social realities to move ahead in a new direction.