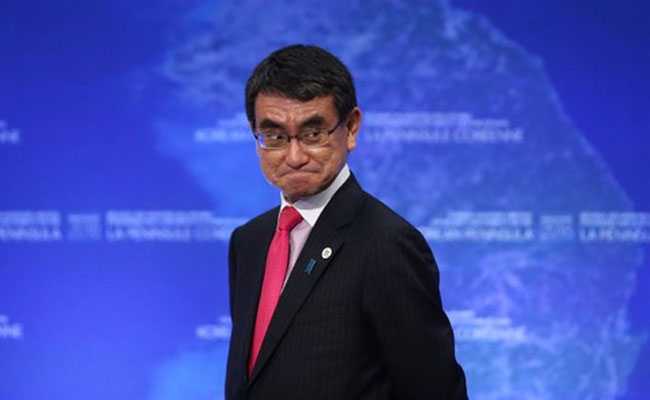 The world needs to step up pressure on North Korea to force it to abandon its nuclear weapons programme and should not be fooled by a charm offensive in engaging South Korea, participants at a 20-nation meeting on North Korea said on Tuesday.
"We must increase the costs of the regime's behaviour to the point that North Korea must come to the table for credible negotiations," U.S. Secretary of State Rex Tillerson told the one-day meeting he is co-hosting with Canada in Vancouver.
North Korean leader Kim Jong Un has refused to give up development of nuclear missiles capable of hitting the United States in spite of increasingly severe U.N. sanctions, raising fears of a new war on the Korean peninsula.
Japanese Foreign Minister Taro Kono said the world should not be naive about North Korea's "charm offensive" in engaging in talks with South Korea ahead of next month's Winter Olympics in Pyeongchang, South Korea.
"It is not the time to ease pressure, or to reward North Korea," he said. "The fact that North Korea is engaging in dialogue could be interpreted as proof that the sanctions are working."
Tillerson said North Korea must not be allowed "to drive a wedge" through allied resolve or solidarity and reiterated Washington's rejection of a Chinese-Russian proposal for the United States and South Korea to freeze military exercises in return for a freeze in North Korea's weapons programs.
He said the Vancouver gathering, which groups backers of South Korea during the 1950-53 Korean War, would aim to improve the effectiveness of the U.S.-led "maximum pressure" campaign on Pyongyang and combat its attempts to evade sanctions.
He urged China and Russia, which backed the North in the war and which are not attending the Vancouver meeting, to fully implement U.N. sanctions.
"We cannot abide lapses or sanctions evasion. We will continue to call attention to, and designate, entities and individuals complicit in such actions," he said.
China and Russia have sharply criticised the Vancouver meeting, which was announced after North Korea tested its biggest ever intercontinental ballistic missile in late November, as an example of "Cold War" thinking. While both have signed up to U.N. sanctions, they have been accused of not doing enough to ensure proper implementation, something they deny.
Tillerson said all countries needed to work together to improve interdiction of ships attempting to skirt the sanctions and said there must be "new consequences" for North Korea "whenever new aggression occurs."
The White House has welcomed news that China's imports from North Korea plunged in December to their lowest in dollar terms since at least the start of 2014, but Trump accused Beijing last month of allowing oil into North Korea.
Western European security sources told Reuters last month Russian tankers had supplied fuel to North Korea on at least three occasions in recent months by transferring cargoes at sea.
Earlier on Tuesday, Chinese state media said Chinese President Xi Jinping told U.S. President Donald Trump in a phone call that unity on the North Korean issue was extremely important and the hard-earned easing of tensions must continue.
The White House said Trump and Xi both expressed hope that the resumption of North-South dialogue might prompt a change in Pyongyang's "destructive behaviour," but Trump also committed to sustain the maximum pressure campaign.
North and South Korea held formal talks for the first time in two years this month and Pyongyang said it would send athletes to the Olympics.
South Korean Foreign Minister Kang Kyung-wha said in Vancouver she hoped the dialogue would continue well beyond the Olympics, but stressed that existing sanctions must be applied more rigorously.
"These two tools - tough sanctions and pressure on the one hand, and the offer of a different, brighter future on the other - (have) worked hand in hand," she said. "The concerted efforts of the international community have begun to bear fruit."
U.S. officials say hawks in the Trump administration remain pessimistic that the North-South contacts will lead anywhere.
Even so, they say debate within the U.S. administration over whether to give more active consideration to military options, such as a pre-emptive strike on a North Korean nuclear or missile site, has lost momentum ahead of the Olympics.
Brian Hook, the U.S. State Department's head of policy planning, told MSNBC the North-South talks were a positive step, but North Korea had been taking advantage of goodwill gestures for decades and needed to "earn their way back to the negotiating table."
"We've learned ... in the past about how North Korea games negotiations; we're not going to fall for that again."
Separately on Tuesday, United Nations Secretary General Antonio Guterres said U.N. sanctions must be fully implemented and added that unity of the 15-member U.N. Security Council "paves the way for diplomatic engagement."
Diplomats say the absence of China, North Korea's main ally and trading partner, will limit what can be achieved in Vancouver.
China's main English-language newspaper, The China Daily, said the meeting was "poorly conceived" and would prove counter-productive.
"At a moment when Pyongyang and Seoul are just beginning a rare detente and talking about further extending mutual goodwill, what good will rhetoric about further sanctions do?" it said.
(Reporting by David Ljunggren and David Brunnstrom; Additional reporting by Michelle Nichols at the United Nations; Editing by James Dalgleish)
© Thomson Reuters 2018
(Except for the headline, this story has not been edited by NDTV staff and is published from a syndicated feed.)