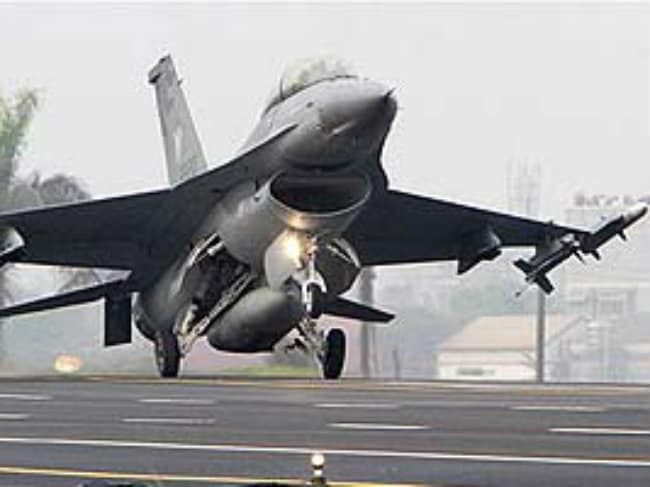 Rabat, Morocco:
A Moroccan F-16 warplane taking part in the Saudi Arabian-led coalition fighting in Yemen went missing on Sunday, the Moroccan Royal Armed Forces said in a statement.
Backed by the United States, a Saudi-led coalition has been conducting air strikes against the Houthis and army units loyal to ex-president Ali Abdullah Saleh since March 26 with the aim of restoring the government of President Abd-Rabbu Mansour Hadi.
Morocco announced its backing of Saudi Arabia since the beginning of the action and has had F-16 warplanes stationed in the United Arab Emirates (UAE).
"One of the F-16s of the Royal Armed Force (FAR) made at the disposal of the coalition led by Saudi Arabia to restore the legitimacy in Yemen went missing on Sunday at 6 pm local time," FAR's statement carried by the Moroccan state news agency MAP said.
The pilot of a second jet in the same squadron could not see if the pilot had ejected, it said. An investigation is under way, it added.
Yemen's dominant Houthi group accepted a five-day humanitarian ceasefire proposed by its adversary Saudi Arabia on Sunday but said it would respond to any violations of the pause.
Neighboring Saudi Arabia had said on Friday the ceasefire could begin on Tuesday if the Iranian-allied militia agreed to the pause, which would let in badly needed food and medical supplies.
On Sunday, Arab planes bombed for a second day in a row the vast compound in the capital Sanaa which is home to ex-president Saleh, a key player in Yemen's political crisis whose loyalists in the army fight on the Houthis' side.
Morocco, along with Egypt, is one of the closest allies of the Gulf Cooperation Council countries (GCC) in North Africa. Four countries from GCC - Saudi Arabia, Qatar, Kuwait and UAE - pledged $5 billion of aid to Morocco from 2012 to 2017 to help the North African kingdom overcome "Arab Spring" turmoil.
Morocco sent its F-16 squadron to UAE last year, when the U.S.-led coalition launched air strikes against the Islamic State militants in Iraq and Syria.
It was the first mission of the Moroccan warplanes since the country bought 24 jets from the U.S. in 2011 to modernize its fleet.
© Thomson Reuters 2015