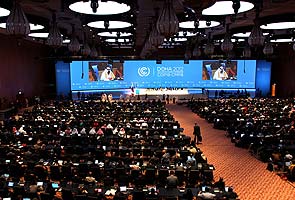 Doha, Qatar:
A dispute over money clouded U.N. climate talks on Friday, as rich and poor countries sparred over funds meant to help the developing world cover the rising costs of mitigating global warming and adapting to it.
Developing countries want firm commitments from rich nations to scale up climate aid to poor countries to $100 billion annually by 2020, a general pledge that was made three years ago.
Rich nations are unwilling to commit to specific targets now, citing world financial turmoil and pressure on their budgets.
After overnight negotiations, a draft agreement was presented on Friday that does not include midterm targets, which developing countries had called for.
"There are still big differences between parties," said Swiss delegate Bruno Oberle, who helped prepare the draft, adding that the text would be revised.
The financing issue has overshadowed the talks since they started last week in Qatar, the first Middle Eastern country to host the slow-moving annual negotiations aimed at crafting a global response to climate change.
Climate activists said the talks were being held back by short-sighted financial concerns among developed countries.
"The tone of the negotiations is extremely sour now," said Greenpeace international leader Kumi Naidoo, who predicted that discussions would continue into the weekend.
Rich nations pledged in 2009 to deliver long-term financing to help poor nations switch to clean energy and adapt to rising sea levels and other impacts of global warming. They offered $10 billion a year in 2010-2012 in "fast-start" financing, pledging that the amount would be increased to $100 billion in 2020. But they didn't say how.
The latest text on the table urges developed countries "to make firm commitments to provide scaled up climate finance beyond 2012" but didn't include any midterm targets.
Negotiators were also trying to finalize an agreement to formally extend the Kyoto Protocol, an emissions reduction pact for rich countries that expires at the end of this year.
The U.S. never joined Kyoto while Japan, New Zealand, Canada and Russia don't want to be part of the extension, meaning it would only cover about 15 per cent of the world's emissions of greenhouse gases.
Governments have set a deadline of 2015 to agree on a wider deal that would include both developed and developing countries, which now produce a majority of the world's emissions.