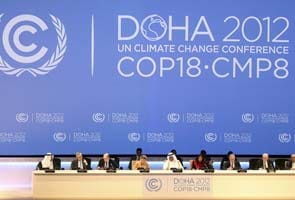 Doha, Qatar:
Catastrophe-hit Philippines on Thursday led a host of countries in making an emotional plea to rich nations to salvage the listless climate talks here, as civil society groups launched a scathing attack on 'deal blockers', warning that the Doha round was on the "brink of disaster."
As the climate talks to decide the second commitment period for the Kyoto Protocol and draft broad contours for a treaty that would succeed it hurtled towards a 'weak deal', or worse a 'no deal' scenario, especially vulnerable and poor countries joined hands with the world's major civil society groups in demanding greater action on emission reduction and finance.
Six global organisations -- Greenpeace, WWF, Action Aid, Oxfam, Christian Aid and Friends of the Earth -- at a joint appearance lashed out at developed countries, particularly the US, Australia and Canada, for blocking negotiations by their rigid and unrelenting stance on providing finance and technology to poorer nations.
Making an emotional plea for movement, Philippines lead negotiator Yeb Sano said he did not want tragedy to be a way of life for people of his country and others across the world.
"As we speak here and try to make a difference in negotiations, a tragedy is unfolding back home. We have toll rising with widespread devastation, hundreds of people missing. This typhoon is a kind we have hardly experienced for half a century, the area that has been hit by the typhoon had not been hit in over 40 years," he said.
Typhoon Bhopa has already claimed at least 320 lives in southern Philippines and left hundreds missing.
"Hundreds of thousands of our people are currently in evacuation centres and we refuse to make it a way of life for Philippines," Sano said.
It is the 16th typhoon to hit the Philippines this year alone as scientists say they have signs that extreme weather events were rising across the global due to adverse impacts of climate change.
Emmanuel Dlamini, the chair of the Africa Group of negotiators, lamented the ironical fact that poorer countries that are fighting for their survival were being labelled as deal breakers by the rich nations, insisting that all trajectories for historical responsibility cannot be overlooked.
The least developed countries (LDC) too joined their voices saying the talks were "at a critical juncture" as the fundamental issue of finance - both medium and long term - stands unaddressed.
"We are not going to leave here with promises over promises," said LDC chair Pa Ousman Jarju.
Civil society groups lashed out at the US negotiators at Doha as being primarily responsible for blocking progress on vital questions.
"Despite the urgency of the crisis facing people and the planet, rich industrialised countries have spent the two weeks in Doha removing even the bare minimum of what would be required to have an agreement that actually meets the acid test of climate action on emissions cuts, public climate financing and action on loss and damage," said a joint statement by the six groups.
They issued the statement entitled 'A letter to ministers and negotiators who care about people and the climate' asking for an agreement here.
"US negotiators have been a stumbling block to negotiations consistently over the past few years. While coming in for climate talks, they forget to pack their consciences. Either their mandate needs to be refreshed or they should be called back," said Greenpeace's Kumi Naidoo in a stinging attack.
Harjeet Singh from Action Aid said there has been little seriousness in the talks as the rich nations refuse to move where it matters.
"They refuse to discuss the question of money, they have set up institutions but where are the funds? What is happening on the technology and IPR front? he asked.