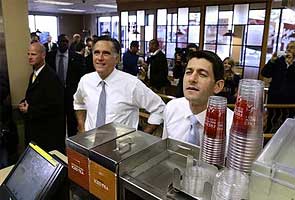 Richmond Heights, Ohio:
Mitt Romney is said to be "running on fumes" as he campaigns in Ohio on Election Day.
The Republican presidential candidate paid a brief visit to a Cleveland-area campaign office and said Tuesday is quote, "a big day for change."
Joining Romney was running mate Paul Ryan. Ryan said Romney was "running on fumes" after a hectic campaign schedule in recent days.
The pair then stopped for lunch at Wendy's, where Romney ordered a quarter-pounder, chili and a Frosty.
Romney said he's optimistic about the election and the future of America. And he called on supporters to get out and vote to help bring, quote, "real change" to Washington.
Romney's campaign added last-minute, Election Day campaign stops in Ohio and Pennsylvania to help rally voters.