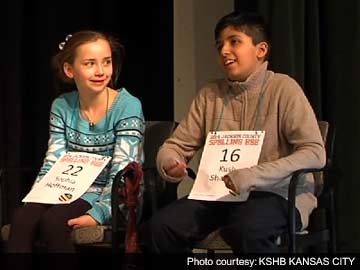 Chicago:
A spelling bee competition in the US has been tied between a 13-year-old Indian-origin boy and a 11-year-old girl after they duelled for 66 rounds until finally the judges ran out of words.
Kush Sharma, a seventh-grader at Frontier School of Innovation, and Sophia Hoffman, a fifth-grader at Highland Park Elementary, battled in Missouri county's annual spelling bee competition with both of them getting every word right.
Finally, the judges ran out of words and the contest between them will resume on March 8 for a spot in the Scripps National Spelling Bee in Washington.
"We did not want to just go through the dictionary and give them more words. We feared that someone would get a word that was too easy while the other would get an extremely difficult word," said Mary Olive Thompson, outreach coordinator for Kansas City Public Library where the event was held.
"We wanted to be a bit more calculated and neutral, and we wanted to give each an equal opportunity," she was quoted as saying by CNN.
The original pool of 25 students was quickly whittled to just Sophia and Kush on Saturday. The programme provides a list of words for contests across the country. Sophia and Kush burned through that list, as well as 20 other words organisers picked from the dictionary when they realised it was possible they might need more words, Thompson said.
"The officials were fatigued. The kids weren't tired. They had endless energy and were doing an amazing job," Thompson said.
Kush cannot remember exactly what word was the hardest for him to spell - something French that started with an "R".
He told CNN he will work hard for the rematch and would study every free minute of the day if he scores a place in the national bee. "I'm looking forward to seeing how far Sophia can push me and how far my skills can go," he said.
For Sophia, the most difficult word was 'schadenfreude', which describes the enjoyment one can get from someone else's bad luck.
She knows how to spell the word, but she apparently does not feel it.
"Kush worked really hard. I wish we could both go (to the national competition)," Sophia said.
Get Breaking news, live coverage, and Latest News from India and around the world on NDTV.com. Catch all the Live TV action on NDTV 24x7 and NDTV India. Like us on Facebook or follow us on Twitter and Instagram for latest news and live news updates.