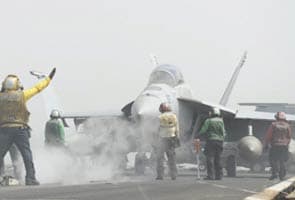 United Nations:
United Nations Secretary General Ban Ki-moon suggested that a military strike on Syria over the use of chemical weapons could worsen the country's conflict.
But the UN chief also insisted that the bitterly divided major powers on the UN Security Council have a "collective responsibility to humankind" to unite and halt the use of chemical weapons.
Without opposing any military strike that the United States and some of its allies are considering, he urged caution.
"We must consider the impact of any punitive measure on efforts to prevent further bloodshed and facilitate the political resolution of the conflict," the UN chief told a press briefing at the UN headquarters.
"Everything should be handled within the framework of the United Nations Charter," he added. "The use of force is lawful only when in exercise of self-defense in accordance with Article 51 of the United Nations Charter and, or when the Security Council approves such action."
Among the five permanent members of the Security Council Russia and China strongly oppose any military strike. The United States and its allies say action must be taken.