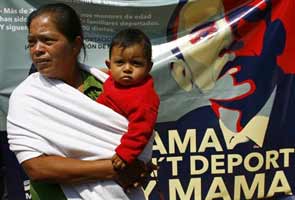 Mexico City:
Beneath the slogan "Obama, don't deport my Mama," dozens of migrant families deported from the U.S. despite having children born there rallied outside the U.S. Embassy before President Barack Obama's arrival on Thursday, demanding passage of a U.S. immigration law they say is vital to keeping families together.
Vladimir Mejia Franco, 12, held a hand-lettered sign that said "Obama, Stop Deportations." The American citizen born in St. Louis was 4 when his parents were deported in 2005. The family later split up after his father legally returned to the United States and started another family there. Vladimir lives in Mexico with his mother, Veronica Mejia Franco, 32, formerly a housekeeper at a St. Louis hotel who says she has a hard time finding work in the western Mexican state of Michoacan.
Echoing the march's slogan, Mejia Franco said "that's exactly what happened to us."
"He says that when he grows up he wants to go back, but he doesn't know English or anything," Mejia Franco said of her son. "He wants to go now, to learn English, but he doesn't want to leave me behind."
Similarly, immigration advocates in the U.S. have been angered by record numbers of deportations under Obama, which they say is splitting up families.
A group of eight U.S. senators - four Democrats and four Republicans - have crafted an immigration bill that Obama says meets his basic criteria of making the border more secure, targeting employers who hire people who are in the U.S. illegally, providing an opportunity for them to become citizens and improving legal immigration.
At a news conference later on with Mexican President Enrique Pena Nieto, Obama said he was "optimistic about us getting this done because it's the right thing to do."
___
In welcoming Obama on his first visit to Latin America since winning re-election, Pena Nieto invoked the words President John F. Kennedy spoke to his Mexican counterpart, Adolfo Lopez Mateos, who is a historical hero to Pena Nieto and was the subject of his college thesis.
Kennedy spoke in 1962 at the National Palace, which also was the setting for a joint news conference Thursday with Obama and Pena Nieto.
"Geography has made us neighbours, tradition has made us friends," Pena Nieto said in Spanish.
He added that neither neighbour should allow any separation in what nature has united.
___
One member of the U.S. delegation proved more popular than Obama among Mexicans: his heavily armoured limousine, nicknamed "La Bestia," or "The Beast."
Since the country's drug violence began to escalate in 2006, so has interest in bullet-proof vehicles. So the Beast, with its long wheelbase, extra-thick doors and huge tires, was a natural hit.
Its arrival in Mexico, several days before Obama, was greeted with front-page newspaper stories and graphics of its many security features.
A photo of the Cadillac getting filled with fuel at a city gas station ran on the front page of Reforma, one of Mexico's largest dailies. Live TV news coverage of the American president's arrival in Mexico City's centuries-old main plaza was marked by news anchors reporting its every move: "There's the Beast! The Beast is entering!" they exclaimed.