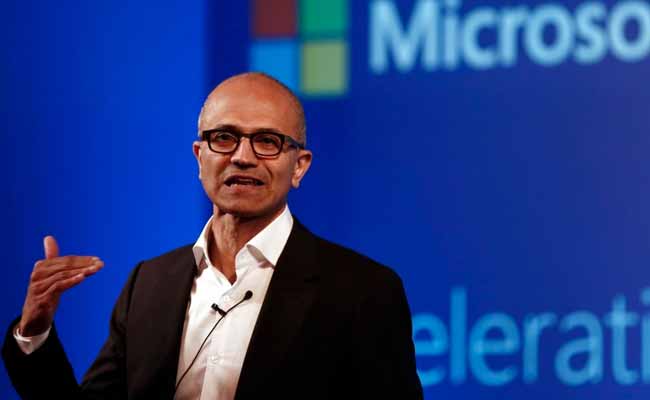 San Francisco:
India-born Microsoft executive Satya Nadella has condemned the violence at the white-nationalist rally in Virginia, saying there is no place in our society for the bias, bigotry and senseless violence.
"Microsoft values diversity, and asked employees to empathise with "the hurt happening around us," Mr Nadella said.
"There is no place in our society for the bias, bigotry and senseless violence we witnessed this weekend in Virginia provoked by white nationalists," he said in a note sent to his employees at the Redmond-based company.
"It is an especially important time to continue to be connected with people, and listen and learn from each other's experiences," Mr Nadella said in the memo, apparently sent to senior managers, the Seattle Times reported.
"As I've said, across Microsoft, we will stand together with those who are standing for positive change in the communities where we live, work, and serve. Together, we must embrace our shared humanity, and aspire to create a society that is filled with respect, empathy and opportunity for all," he said.
His note comes as several high-profile executives, including the leaders of Intel and drugmaker Merck, quit a government advisory panel, some in protest of President Donald Trump's initially subdued response to the violence.
'Unite the Right' march had been organised to protest against the proposed removal of a statue of General Robert E Lee, who commanded the pro-slavery Confederate forces during the American Civil War. Violence broke out after they were confronted by anti-racism groups and later a car ploughed into one group of anti-racism protesters in Charlottesville.
President Trump had blamed both sides including the "alt-left" for the deadly violence.
Apple chief executive Tim Cook and Facebook CEO Mark Zuckerbeurg also criticised Trump over his response to the rallies.
"I disagree with the president and others who believe that there is a moral equivalence between white supremacists and Nazis, and those who oppose them by standing up for human rights,
Mr Cook said in an email to his staff accessed by ReCode.
In a Facebook post, Mark Zuckerburg said, "there is no place for hate in our community. That's why we've always taken down any post that promotes or celebrates hate crimes or acts of terrorism -- including what happened in Charlottesville."
"With the potential for more rallies, we're watching the situation closely and will take down threats of physical harm.
We won't always be perfect, but you have my commitment that we'll keep working to make Facebook a place where everyone can feel safe," he said.