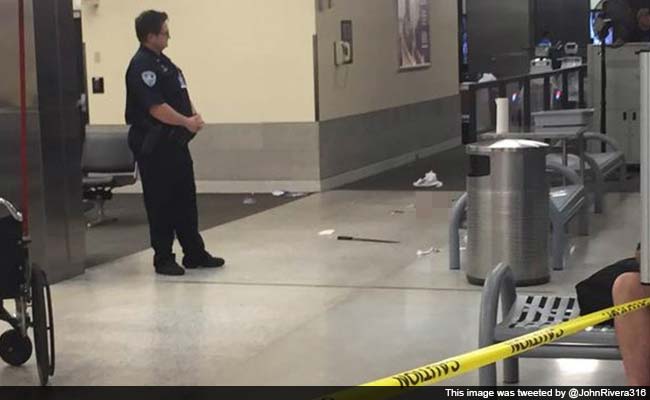 WASHINGTON:
A machete-wielding mentally ill man shot by police at a New Orleans airport was armed with an arsenal of Molotov cocktails, officials said on Saturday, but the motive for the assault was still a mystery.

Attacker Richard White, 63, was being treated in hospital after being shot three times by police when he stormed a security checkpoint and attempted to assault Transportation Security Administration agents.

Initial reports said White had wounded one of the TSA agents but police said on Saturday the injured employee was in fact hit by a stray bullet as police opened fire on the assailant.

Jefferson Parish Sheriff Newell Normand told a press conference that a police officer who opened fire had struck the TSA agent accidentally as White appeared to be primed to attack her.

"She was being chased by the perpetrator with the machete. The officer began to fire because he was gaining on her very quickly," Normand said.

The shot grazed the TSA agent's triceps and passed through her to hit the attacker, Normand said.

Acting TSA Administrator Mel Carraway praised his agency's officers, saying "a lot of lives were saved" by their actions.

Plan to bomb airport?

White, described by law enforcement as a member of the Christian-based Jehovah's Witnesses religious movement, was carrying a bag during that attack.

Inside, police found six Molotov cocktails -- here in the guise of half-pint jars filled with gasoline and set with cloth wicks.

A search of White's car parked near the airport uncovered smoke bombs and several canisters, including an oxygen tank.

"We don't know at this time what the intended purpose of those being in the trunk of the car actually are," he said.


Normand said the motive for the attack was a mystery, though discussions with White's family had revealed "a mental illness component."
Investigators were hoping to interview White if he was fit to do so.
"He's still alive. We very much want the opportunity to talk to him. We're not sure that that's actually going to happen," Normand said.
"His family has been very cooperative. We have been able to determine that there is a mental illness component here that's presented."
Witnesses said White had acted in a "calm, cool, collected" manner prior to the attack, Normand said.
"No one in this point in time has any notion to what may have triggered this behavior," he added.
White had worked as a taxi driver, had recently received his chauffeur's license and had "little or no criminal history," Normand revealed earlier.
A neighbor, Donna Jackson, told The Times-Picayune newspaper that White was a former Army serviceman, who had retired years ago and was living off Social Security and disability checks.
"He was so meek, so mild," she added, saying he was a deeply religious Jehovah's Witness who shunned Western medicine and encouraged his neighbor to use herbal remedies, even to treat her diabetes.