Nairobi, Kenya:
Hailing from different countries, six youngsters - who have been acknowledged with "Young Champions of the Earth" award by the UN Environment this year - are united by a common passion to work towards sustainable living in their communities.
This is the first time that the UN Environment has awarded six youngters - Omer Badokhon, Kaya Dorey, Eritai Kateibwi, Liliana Jaramillo Pazmino, Mariama Mamane, Adam Dixon - with a seed funding of USD 15,000 and mentoring sessions by key industry players to accomplish their sustainability related goals.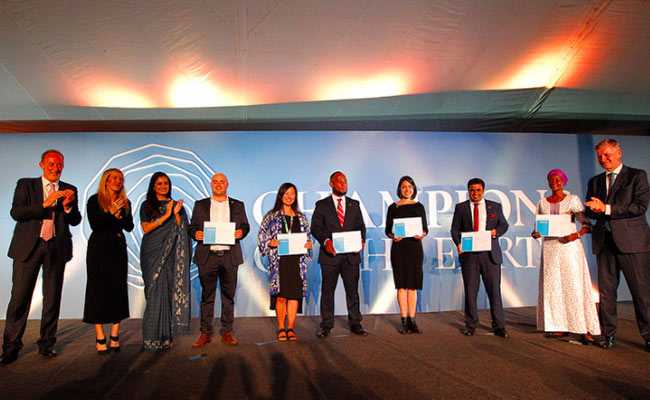 Twenty-four-year-old Badokhon is from Yemen and he believes that despite the civil war that has ravaged his country, there is hope for future.
He wants to empower Yemen's farmers and find sustainable solutions to waste management, which plagues his country like others.
"Producing biogas technology from waste is a new idea. It's famous in India, China and Africa. But I am developing a design to ensure optimum production of biogas. The design will enable rapid decomposition of domestic organic waste, thereby maximising the amount of biogas produce," he says.
Ms Kaya from Canada is 29, and she is also trying to find better ways for waste management, but in fashion industry. She is not a fashion graduate; however, she says she has always been passionate about designing clothes and reduction of waste. The passion inspired her to start her own apparel line, with a focus on waste reduction.
"My vision is to shift the focus of fashion industry towards sustainability and to make it accountable for waste. I have a closed loop line, which produces no waste. I find alternative use of the waste produced during the manufacturing process. I offer to take back the apparel from the customer when they choose to discard it," she explains.
Mr Kateibwi, 28, who hails from Kiribati in Asia Pacific, is trying to ensure people in her country can grow their vegetables and fruits on their own. She says the island nation is so densely populated that there is hardly any land left, not even to grow vegetables.
"It just worries me that we, as a nation, have to depend on canned food imported from other countries because the country has no land available for farming. The people in the country are also facing severe onslaught of climate change because the nation is in close proximity to the ocean. This is what has pushed me to make a design using hydroponics so that people can grow their own vegetables and fruits with just water and minerals, without any soil. With the seed funding I have been awarded, I can enable everyone in my country so that they can grow thei own fruits and vegetables, Mr Kateibwi, a diving enthusiast, says.
Like Mr Kateibwi, Ms Pazmino from Ecuador, is also concerned about climate change. The 29-year-old, who is a dancing and gardening enthusiast, has been researching, identifying and cataloguing native plant species that are better adapted to urban environment and are resilient to climate change.
"It's my dream that my city Quito is full of green roofs - a green infrastructure project I am working on. My idea is to link green technology with conservation and use native plants on rooftops," she says.
Another awardee from Niger, Ms Mamane is using an aquatic plant, water hyacinth, to create environment-friendly fertilizers and sustainable energy.
"With the seed money I have won, I aim to take my project to a higher scale by using water hyacinth that chokes waterways across the nation. The project focuses on the idea of introducing a plant-based purification mechanism to help manage fresh water and improve access to drinking water," she elaborates.
"Water Hyacinth is not inherently harmful. It purifies the waterway, but it becomes a problem when it reaches maturity. My technology will also provide for organic fertilizer as a by-product."
Mr Dixon, also a gardening enthusiast, is famous in his college for growing all kinds of plant, a passion he inherited from his mother. An engineer from the United Kingdom, the 25-year-old brought together his skill and passion to innovate and use the concept of phytoponics that enables food crops to grow in water, encased a recyclable polymer film. In just one year, the total worth of his firm,Phytoponics Ltd, is USD 2.6 million.
"My invention is a low cost mechanism for growing fruits and vegetables that reduces the agricultural impact on land and the water of the country. It is my vision that by 2050, we will be using just a fraction of land in the country, as compared to the land we are using right now," he shares.