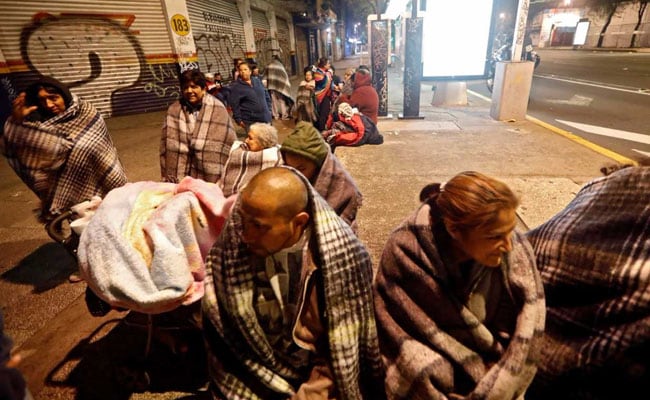 Mexico City:
A powerful 8.1 magnitude earthquake struck off the southern coast of Mexico late Thursday night, killing at least six people and setting off tsunami warnings along the Pacific coast.
President Enrique Pena Nieto called it the biggest quake in a hundred years, even larger than the devastating 1985 tremor in Mexico City that killed thousands. He said a million people lost power, but electricity was soon restored for most of them.
The epicenter of the earthquake was off the coast of Chiapas, a state in southern Mexico, but the rumblings rocked the Mexican capital more than 600 miles away, causing electricity failures, and reports of sporadic damage. Many Mexicans were roused from bed by the quake and evacuated their shuddering apartment buildings in pajamas and stocking feet.
The Mexican government ordered schools closed in the capital on Friday so that school infrastructure could be inspected after the quake.
Four people died in San Cristobal de las Casas in Chiapas state, including two women when their building collapsed, Gov. Manuel Velasco told Milenio TV, adding that the quake also damaged hospitals and schools.
Photos showed collapsed ceilings, flattened concrete buildings, and rubble from damage in southern cities such as Tuxtla Gutiérrez and Tonala.
Two children died in neighboring Tabasco state, including an infant who perished when hospital electricity failed and the ventilator went off, said Gov. Arturo Nunez.
In the southern state of Oaxaca, the entire Anel Hotel collapsed, but authorities say that people inside managed to escape and there are not believed to be any casualties.
Mexican authorities alerted the coastal states of Oaxaca and Chiapas of the possibility of destructive waves of higher than 13 feet. So far, though the Pacific Tsunami warning center had only reported waves of about three feet off the coast of Mexico.
The U.S. Tsunami Warning System said hazardous tsunami waves were possible on the Pacific coasts of Guatemala, El Salvador, Costa Rica, Nicaragua, Panama and Honduras within three hours. There was no tsunami threat for the West Coast of the United States, but the warning system said waves could reach Mexico and as far as Ecuador.
Nieto, the president, said on Twitter that authorities have been instructed to meet immediately to evaluate the situation and respond to the quake.
Mexico City is one of the more earthquake-conscious capitals in the world, after a devastating 1985 earthquake caused widespread damage to the city and killed thousands. Many of the more modern buildings have been built to withstand severe tremors. In the seconds before the earthquake started late Thursday, earthquake warning sirens had blared throughout the capital.
(Except for the headline, this story has not been edited by NDTV staff and is published from a syndicated feed.)