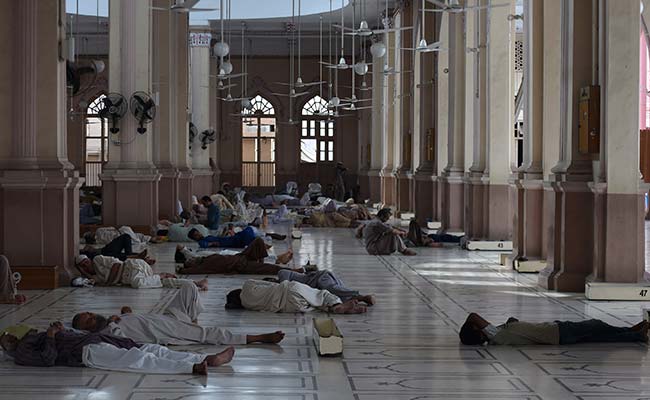 Karachi:
Pakistani welfare volunteers held a mass funeral for 50 victims of Karachi's worst heatwave in decades, whose bodies had gone unclaimed.
More than 1,000 people have died as a result of days of scorching temperatures in southern Pakistan, with the sprawling metropolis Karachi the worst-affected city.
After peaking at around 45 degrees Celsius (113 Fahrenheit) last weekend, the heat has subsided to the mid-30s and the city's customary cooling sea breeze has started up, bringing relief to its 20 million inhabitants.
At times this week the city's morgues struggled to cope with the influx of the dead, many of whom were elderly, destitute or drug addicts.
The Edhi Foundation, a welfare group based in Karachi, today buried 50 bodies that no relatives had come forward to claim.
Abdul Sattar Edhi, the organisation's much-loved founder, was joined by dozens of volunteers and passers-by in offering prayers for the dead as they were buried in white cotton shrouds.
"In my whole life I have not seen such a large number of deaths due to heatstroke," Edhi, who is around 90 years of age, told AFP.
"It is a natural calamity."
Mohammad Amaullah, an Edhi official, said most of the 50 were heroin addicts. Karachi, Pakistan's largest port, is a major transit point for heroin produced in Afghanistan.
An ambulance driver who has been transporting bodies for the Edhi Foundation said drug addicts were the worst-affected victims of the heatwave.
"I picked up bodies from beneath the Rexer Bridge, where heroin addicts frequently hang out," diver Irfan Ahmed, the driver said.
Karachi hospitals have treated nearly 80,000 people for the effects of heatstroke and dehydration during the week, according to medical officials.
Power cuts have contributed to the suffering, preventing fans and air-conditioners working and hampering water pumps.
The Tehreek-e-Taliban Pakistan (TTP) issued a statement blaming K-Electric, the city's power company, for the crisis and threatening revenge.
This year's heatwave has also coincided with the start of the Islamic fasting month of Ramadan, during which millions of devout Pakistanis abstain from food and drink from sunrise to sunset.
Many of those who died were outdoor manual labourers, who are paid by the day and may be reluctant to stop work as it would mean losing income.
Under Pakistani law, it is illegal for Muslims to eat or drink in public during daylight hours in Ramadan, though the crisis prompted some clerics to advise people they should stop fasting if their health is at risk.