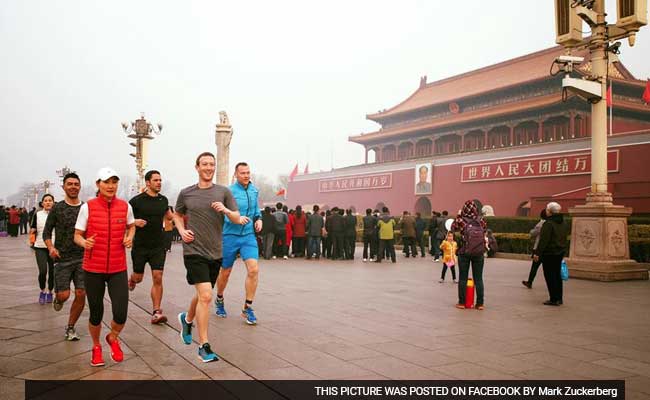 Highlights
Facebook CEO Mark Zuckerberg posts photo of mask-free jog through Beijing
Beijing's air deemed 'hazardous' under most global air-quality standards
He is in China, where Facebook is banned, to attend an economic forum
Beijing, China:
Facebook CEO Mark Zuckerberg took a mask-free jog through Beijing's Tiananmen Square on Friday, smiling through thick smog as he seeks greater access for his company to China, where its service is banned.
The social media executive was in the capital ahead of an economic forum that gives some of the world's top business and finance leaders the opportunity to hobnob with senior Chinese politicians.
In a picture posted to his Facebook account, Zuckerberg said it was "great to be back in Beijing", adding that he had jogged through Tiananmen and to the Temple of Heaven.
The photo showed him running with a small group past the iconic image of Mao Zedong that hangs on the entrance to the Forbidden City.
Neither Zuckerberg nor anyone in his party wore a mask, despite thick smog -- also well-known by tourists to the city.
Levels of PM2.5 -- the smallest, most dangerous particulates -- were above 300 micrograms per cubic metre in Beijing throughout the morning before the photo was posted, according to data from the US Embassy in the city.
At that level -- 12 times the World Health Organisation's recommended maximum -- the US embassy's advice is: "Everyone should avoid all outdoor exertion."
Zuckerberg often posts pictures of his running while travelling, but the photo was greeted with derision by some Chinese Internet users who are not allowed access to his company's service.
Facebook has been banned in China for years, but is pushing to get back into the country, even as Communist leadership tightens censorship controls.
Zuckerberg been criticised both in China and abroad for his apparently deferential treatment of the country's leaders.
In 2014, he hosted China's top Internet regulator Lu Wei at his Silicon Valley office, telling the man in charge of cracking down on online expression that he was studying the speeches of President Xi Jinping and had purchased copies of a book collecting them for several of his colleagues.
He has also been studying Chinese and delivered a speech in passable Mandarin during a 2015 appearance at Tsinghua University.
Many Chinese users saw Friday's Facebook posting as tone-deaf.
"He's the world's most expensive vacuum cleaner", said one user on China micro-blogging site Weibo.
Facebook users, too, were not convinced by the wisdom of the excursion.
"You have a total number of 6 people in the running team," went one tongue-in-cheek comment from a Chinese expatriate in Australia. "Did you apply for the authorisation to run on the street? If not, this is illegal in China."
She added: "Please respect the local law when you are in a foreign country."
(This story has not been edited by NDTV staff and is auto-generated from a syndicated feed.)