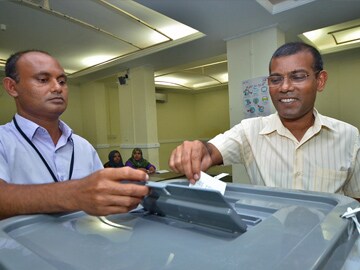 Male:
The Maldives held parliamentary elections on Saturday on schedule, despite worries about the ability of the resort island's turmoil-hit elections commission to stage the ballot successfully.
Results were due to be announced on Sunday from the vote in the Indian Ocean holiday paradise.
President Abdulla Yameen had voiced doubts over whether the elections commission could conduct the vote successfully after the chief and deputy were fired two weeks ago by the Supreme Court.
But private watchdog Transparency Maldives said the opening of the poll was "smooth, transparent and well-administered" and the government declared the vote had gone off peacefully.
A coalition partner of Yameen had petitioned the court Thursday seeking a delay of the polls, arguing the commission did not have its full complement of five members to hold a free and fair poll.
But with no court decision, the election went ahead as scheduled, Elections Commission official Aishath Reema told AFP.
Former president Mohamed Nasheed's Maldivian Democratic Party was the frontrunner in the polls, but observers doubted whether any single party would be able to form a majority in the 85-seat assembly without support from coalition partners.
The head of the Elections Commission and his deputy were dismissed March 9 for "disobeying" a court order to adjourn part of last year's presidential election eventually won in November by Yameen.
"The commission barely meets the quorum (of three) to hold an election of such importance," Yameen told a rally in the capital Male on Thursday.
A total of 302 candidates contested the 85 seats in parliament, but the executive president, who is directly elected by the people, has wide powers in the country of 330,000 Sunni Muslims.
More than two-thirds of the 240,000-strong electorate turned out to vote, officials said, citing preliminary estimates.
The dismissal of the two top election commission officials nearly two weeks ago has reignited the controversy over last year's presidential vote when the Supreme Court annulled the results of a first round won by Nasheed, and then cancelled two other polls at the last minute.
Yameen won the November 16 presidential run-off, five years after the island nation introduced multi-party democracy.
Western nations as well as neighbouring India said they were closely following developments in the country where recent political unrest has dented its image as a tourist draw.
UN Secretary-General Ban Ki-moon earlier called for "peaceful and credible elections" while the US has led international concern voiced over judicial interference in independent institutions in the Maldives.