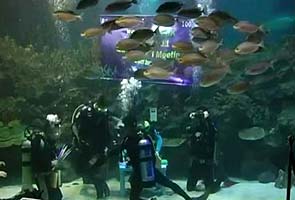 Kuala Lumpur:
It was a board meeting with a difference. The executives did not wear the traditional suit with tie, instead they donned wet suits and carried air tanks.
The venue too was not the board room but underwater.
Ten Malaysian entrepreneurs held the 15-minute meeting 4.2 metres below the water among stingrays and rabbit-fishes at an aquarium here yesterday.
The executives used hand signals and placards to conduct the meeting.
During the meeting agenda, laughter erupted outside the aquarium as a signboard listed down several ground rules that entrepreneurs at the underwater meeting had to follow.
These included a ban on urinating and use of hand phones.
Prior to the meeting, the board members had to undergo two basic safety swimming classes.
Entrepreneurs' Organisation (EO) Malaysia chapter president Rudy Foo Tek Hei said he decided to chair the meeting underwater "to help members learn and grow professionally and personally."
"This is a way to help members overcome phobias and relate this experience managing their businesses."
"As a non-swimmer, I thought I was going to fall flat to the bottom but the presence of my friends made me feel safe," board member Choon Siew Mei was quoted as saying by newstraitstimes.
The entrepreneurs have made it into the Malaysia Book of Records for holding the country's first underwater board meeting.