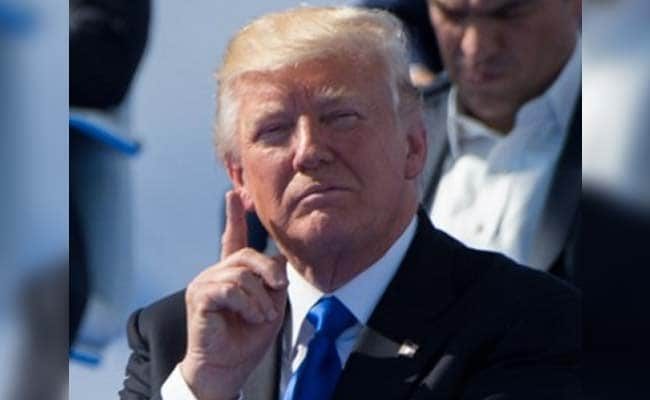 Washington:
President Donald Trump's new proposal to make his signature border wall with Mexico a solar generator seems a bright idea for a leader who has focused on reviving coal, but it would face huge regulatory hurdles.
The wall was a central feature of Trump's campaign and he has continued to promote it in the early months of his presidency, though it has found little support in Congress, which has declined to provide funding.
And despite the US leader's repeated statements, Mexico has consistently derided the idea that it would pay for the wall's construction, valued at between $8 and $40 billion.
But Trump on Wednesday revived the plan, with a renewable energy twist.
"I will give you an idea that nobody has heard about yet," he said. "The southern border. Lots of sun, lots of heat. We are thinking about building a wall as a solar wall. So it creates energy. And pays for itself."
The Solar Energy Industries Association cautiously welcomed the announcement, at least for its nod to an industry Trump has shown little support for.
"We are glad to hear that the president appreciates the many benefits of solar energy," Dan Whitten, SEIA's vice president of communications, said in a statement.
"We agree this could be a cost-cutting, environmentally friendly approach, but we're going to wait to comment further until we see a more detailed plan."
But others are skeptical the plan could work in practice, although large solar arrays in Texas and California already have proven economical, more so than natural gas or coal in some cases.
For solar to be economical, there needs to be a buyer in relatively close proximity, said Anya Schoolman, executive director of Community Power Network, a grassroots organization that promotes local and regional solar projects.
"These panels are out in the middle of nowhere, it's not clear who would buy the energy."
Schoolman added: "It is further complicated by the fact it crosses state boundaries."
Not only does each state have different regulations, so does each utility company and each regional transmission organization, which runs the power grid in each state or group of states.
"Just the regulatory barriers to doing it would probably make it prohibitive," Schoolman told AFP.
Edward Alden of the Council of Foreign Relations said a solar array would be better than just a barricade, but "the long distances between the border and the places where the power is needed would likely make it uneconomical."
"And I don't believe that the administration has actually taken a serious look at this idea," he told AFP.
Powering 220,000 homes
A wall covered with solar panels, if properly angled to get the most amount of the sun, would certainly generate a large amount of energy if the regulatory and technical barriers can be overcome.
Elemental Energy, an Oregon-based solar installation firm, estimated a wall with 10-foot-high (three-meter) solar panels would generate 7.28 gigawatt-hours (GWh) of electricity each day, enough to power 220,000 average-size homes annually, according to Business Insider.
The cost of the solar installation would be between $1.4 billion and $4.2 billion, not including the cost of the wall, according to the report.
Hundreds of companies have put in bids to work on the border wall, should it ever be built, including one from Las Vegas businessman Tom Gleason that involved using solar panels.
He said his wall would cost around $6 million per mile to build, would generate two megawatts of electricity per hour and "will pay for itself in 20 years," according to an interview with the Las Vegas Review Journal.
"Our intent is to offer a realistic, no-nonsense design for the wall that pays for itself" and "will make everybody happy including our president," Gleason said.
(This story has not been edited by NDTV staff and is auto-generated from a syndicated feed.)