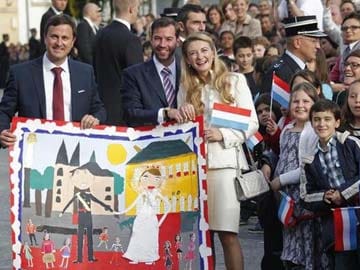 Luxembourg:
Luxembourg swore in Xavier Bettel as its first openly gay prime minister on Wednesday, paving the way for the introduction of social reforms such as same-sex marriage.
Bettel replaces Jean-Claude Juncker, who was until Wednesday the European Union's longest-serving head of government, with 19 years in power. That distinction is now held by Estonian Prime Minister Andrus Ansip, who took office in April 2005.
Bettel, whose deputy Etienne Schneider is also openly gay, is expected to introduce other changes like replacing religious instruction in school with more general ethics classes.
His Democratic Party, the Socialists and the Greens won a slim majority in an election on October 20, putting Juncker's Christian Social People's Party (CSV) out of government for the first time since 1979.
Bettel, 40, was previously mayor of Luxembourg city. He has said his government will need to take unpopular measures and must cut spending to preserve its triple-A credit rating.
The European Commission last month forecast a widening of Luxembourg's public sector deficit from 0.6 per cent of gross domestic product last year to 2.7 per cent in 2015, although its debt level even then would still be below 30 per cent of GDP.
Pierre Gramegna, head of the Luxembourg chamber of commerce and a former ambassador to Japan, will be finance minister.
Wedged between France, Germany and Belgium, Luxembourg is one of the world's smallest countries, with just over half a million people. But it is a major financial centre, second only to the United States for investment funds, and a leading private banking hub.
Juncker, who also headed the Eurogroup of euro zone finance ministers until early 2013, will continue to lead his centre-right CSV in opposition, although there is already speculation that he might move to Brussels to take up a European post.
The CSV has ruled Luxembourg since 1979 and has only been out of power for five years since the end of World War Two. It is still the largest party in parliament with 23 seats. The three governing parties have 32 of the 60 seats.
© Thomson Reuters 2013