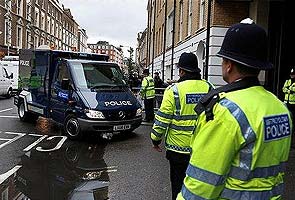 London:
The two suspects in the brutal killing of a British soldier on a London street will appear at separate courts in London today.
Michael Adebolajo, 28, will appear at Westminster Magistrates Court for his first court hearing after he was charged on Saturday with the murder of 25-year-old soldier Lee Rigby.
He has also been charged with the attempted murder of two police officers and possession of a firearm.
The other suspect, 22-year-old Michael Adebowale, is due to appear at the Old Bailey in central London for a bail hearing ahead of a pre-trial hearing on June 28.
He faces charges of murder and possessing a firearm.
Adebowale appeared at Westminster Magistrates Court on Thursday, speaking only to confirm his identity and current address, after he was discharged from hospital on Tuesday.
The two Muslim converts of Nigerian descent were shot by police at the scene of the killing near Rigby's barracks in Woolwich, southeast London, on May 22.
Counter-terrorism officers charged Adebolajo after a day of questioning following his release from hospital on Friday.
The pair were filmed and photographed at the murder scene by witnesses, but legal restrictions prohibit the reporting of further details of the attack.
An inquest into Rigby's death heard that he was run over by a car before being attacked by two men armed with a cleaver and a knife, on a quiet suburban street in the middle of the afternoon.
Ten other people have been arrested in connection with the case, including two women who have been released without charge.