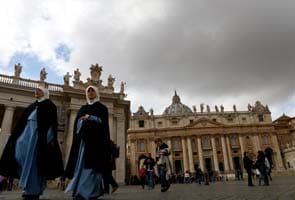 Vatican City:
Retired pope Benedict XVI is gone but far from forgotten as cardinals begin voting for candidates to replace him, with his personal secretary Georg Gaenswein one of the last to leave the Sistine Chapel before the start of the conclave.
"He has already influenced the outcome," said Vatican expert Bruno Bartoloni, noting that all 115 cardinals who began their secret conclave Tuesday were named either by Benedict or his predecessor and ideological soulmate John Paul II.
Indeed all three cardinals considered frontrunners to succeed Benedict -- Italy's Angelo Scola, Canada's Marc Ouellet and Brazil's Odilo Scherer, are in his conservative mould.
And the German pope's "provocative" decision to become the first pope to abdicate since the Middle Ages could "influence the cardinals to make robust decisions", Bartoloni told AFP.
Benedict cited failing strength of mind and body when he stunned the world with his decision to resign from a troubled eight-year papacy marked by scandal and intrigue.
Father Robert Sirico, head of the US-based Acton Institute think tank, insisted that Benedict has "been very careful not to insert himself into the proceedings" for his succession.
He pointed to Benedict's "removal of himself to Castel Gandolfo, and the fact that he made no comments or expressed any preferences on a number of the things leading up to his resignation".
The "pope emeritus", who turns 86 next month, has begun his retirement at the papal summer residence outside Rome with promises of being "hidden from the world" and living as a "simple pilgrim".
"Obviously there are consequences to his decision and obviously not all good," Sirico acknowledged, adding: "It has to weigh on his mind (that the cardinal electors) are in this position because of his decision".
One obvious consequence is that "future popes could more easily resign", he noted.
Moreover, once the election is over, Benedict's potential silent influence on the future pope cannot be underestimated.
After staying away from the world's smallest city state for two months, Benedict will move into a former convent inside the Vatican walls.
"Supposing there's a miracle and the new pope is a progressive?" argued Frei Betto, a well-known leftist Dominican monk, speaking to AFP in Sao Paolo, Brazil.
"He won't do anything to upset Benedict XVI. We will get to know the new pope when Benedict XVI dies," the outspoken monk said.
The new pope should move quickly to "define the status of his predecessor", said Vatican expert Sandro Magister, who writes for the left-leaning Italian weekly L'Espresso.
Bartoloni added: "The new pope will have to make a gesture towards Benedict immediately."
Sirico said the cardinals "genuinely have a high regard for Benedict regardless of whatever management problems he had", and mused that the former pope could even receive some votes in the first round of balloting on Tuesday.
Sirico, whose think tank studies religion and freedom, said of the new pope: "I would consider this a real asset to be able to consult my predecessor".
He conceded the novelty, however, of "having a living pope in your backyard".
Experts dismissed concerns over a dual role to be played by Gaenswein, whom Benedict named as head of the papal household in December, even though the former pope's secretary was seen among other prelates in the Sistine Chapel just before cardinals began voting.
The latter role will give Gaenswein constant access to the new pope as the administrator of his living quarters and staff.
"I would imagine that Georg Gaenswein will be in that position as a transitional figure," Sirico said.
"The pope emeritus couldn't obligate the new pope to have him as the head of the papal household, he's just someone who knows where everything is -- the light switches and so on."