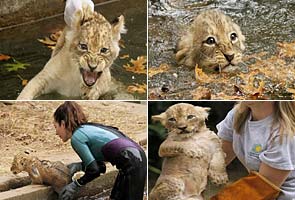 Washington:
Before these four lion cubs were allowed to roam free in their den at the Washington zoo, they had to pass a swimming test.
The keepers wanted to ensure they are be able to swim because, when they move to the outdoor enclosure in December, they'll find themselves surrounded by a moat that is 10 feet deep.
Wearing wet suits, the lion keepers guided each 18-pound, eight-week-old cub into the moat surrounding their den.
According to the zoo, all four cubs - three females and one male - passed the test with flying colours, managing to perform a passable Lion paddle.
The cubs swam under the expert guidance of the zoo's curator, Craig Saffoe, and two keepers - Rebecca Stites and Kristen Clark.
The lions will be released into the den after their rabies shots. The litter is the first for 4-year-old Shera, who is an excellent mother, according to the zoo.
The cubs are expected to stay at the National Zoo for the next 2 years , before moving to other zoos to participate in conservation breeding programs.