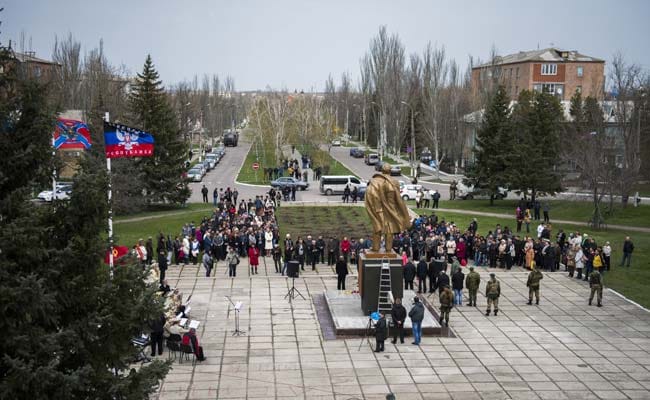 kharkiv:
Masked men have toppled several statues of the Soviet leader Lenin in eastern Ukraine, authorities said today, in a fresh show of anti-Russian sentiment as Kiev battles pro-Moscow separatists.
Two statues were demolished at universities in the government-controlled city of Kharkiv late Friday, shown in videos posted on YouTube, a week after Kiev's parliament approved a law banning Soviet symbols in Ukraine.
In the video, a group of men hook a noose around the neck of the first statue and tug it to the ground where it shatters. Then they cut the lock on the gate to a second location and use a van to tug another statue down.
The bill, which also bans Nazi symbols, has yet to be signed into law by President Petro Poroshenko, but numerous Ukrainians have already begun destroying Communist-era monuments.
On Friday the pro-Kiev governor's office in Lugansk, an eastern region partly split between the government and separatists, said another Lenin statue had been daubed in yellow and blue, Ukraine's national colours, and later toppled in the village of Stanytsya Luganska.
"Staff from the district administration came to work in the morning and found Lenin in a horizontal position," governor Gennady Moskal said in a statement on Friday.
"Clearly the leader of the world proletariat could not stand being abused by being given the national colours of Ukraine and decided to get off his pedestal, but stumbled and fell."
Authorities in a government-controlled part of another contested region, Donetsk, also said unidentified people used cables to tug down a Lenin statue in the city of Kramatorsk on Friday.
In a counter-move, pro-Russian officials re-erected a fallen Lenin statue in the separatist-held town of Novoazovsk on Friday, separatist leaders in the region said in a statement.
That statue had been knocked down when pro-Kiev forces held the city last year, it said.
Just after lawmakers approved the law a week ago, a YouTube video showed masked men demolishing three other monuments to former Communist leaders.
Supporters of the law say it will help Ukraine get over the traumatic history of the Nazi occupation in World War II and Moscow's domination through most of the 20th century.
Moscow however branded the law "totalitarian" and warned it would promote "nationalist ideology".