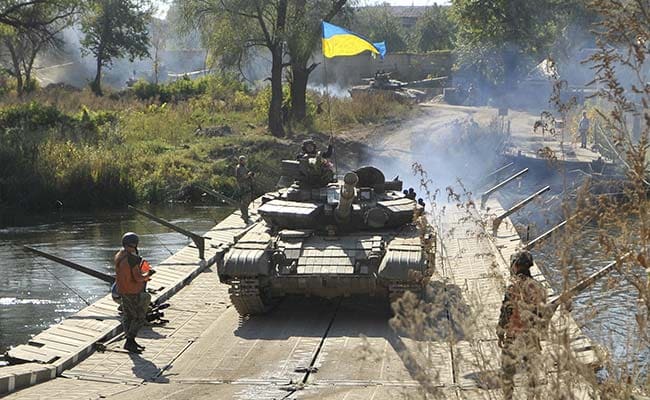 Peremozhne, Ukraine:
Partially blind Tetyana has been living near the skeletal remains of a rebel-held airport in eastern Ukraine and surviving off hand-picked vegetables since war gripped the EU's backyard last year.
Her subsistence and that of 450 others in what remains of the village of Peremozhne has been made no easier by them being Lemkos -- a tiny and largely forgotten minority whose tragic history has seen them tossed across eastern Europe for generations.
And the conflict in Ukraine is pushing them one step further to oblivion.
The unique people's most famous son is Andy Warhol -- the flamboyant US pop artist whose family emigrated from the foothills of the Carpathian Mountains that spill west into neighbouring Poland nearly a century ago.
But the 40-year-old former shop owner has little time to take pride in artists as she plucks a slim cucumber off a nascent vine.
"Our farms were taken away by the separatists, who placed their military equipment there," Tetyana says without disclosing her last name for fear of retribution from the pro-Russian insurgents in the eastern province of Lugansk.
"The flags here changed constantly," she says of an 18-month war that has gripped the former Soviet nation since its pro-Western revolution in Kiev.
"First there were the Ukrainian conscripts -- young guys from Lviv who cried and begged us for a chance to phone their parents" living in the western and mostly nationalist city.
"Then came the (pro-Kiev) Aidar volunteer fighters, then the (pro-Russian) Lugansk insurgents, and now -- the Russians," Tetyana says.
"But in essence, none of them really cared about us much."
Russia furiously denies its army's presence or any other intervention in what it calls Ukraine's "civil war".
- 'I am from nowhere' -
Tetyana may be forgiven for not devoting much thought to Warhol -- the New York underground icon appeared to think little of his ancestral homeland as well.
"I am from nowhere," he once famously said with a seemingly straight face.
The Lemkos' history is indeed as complex as that of many other communities that suffered under various warlords and royalty who commanded central and eastern Europe for centuries.
The temporary government that ruled Poland under the Nazis in 1944 signed a deal with then-Soviet Ukraine to exchange their ethnic minorities and avoid the potential rise of ethnic nationalism and revolt.
The Lemkos who had lived in eastern Poland were shipped to eastern Ukraine -- the current scene of fighting that has claimed more than 8,000 lives.
An estimated 200,000 Lemkos were thus either deported or joined the exodus because of the bloody persecution being waged against them by the local authorities in Poland.
The linguistically unique people became scattered from as far east as what is Russia's current western border to the central European state of Slovakia.
Their sense of shared values and history began slowly to erode -- as did their language. It is a mixture of Polish and Ukrainian whose origins are disputed and only became codified in the late 20th century.
Many abandoned paganism at around the same time to join either the eastern Orthodox or Catholic faiths that -- with their distinctive wooden churches -- dominate much of eastern Europe today.
Ukraine itself has never recognised Lemkos as a separate group in an official census. And only 11,000 people identified themselves as Lemkos in the last Polish one conducted in 2011.
Some anthropologists believe that the figure may be similar in Ukraine.
- 'Victims of repression' -
Peremozhne -- a hamlet that runs across farmlands stretching just 40 kilometres (25 miles) west of the Russian frontier -- was established between 1944 and 1946 under the bloodthirsty dictatorship of Stalin.
Pensioner Pavlo Markovych was one of the tens of thousands of displaced Lemkos. He was only two weeks old when his family was forcibly moved into what was then little more than wasteland that had just been trampled by hundreds of thousands of Soviet and Nazi troops.
"Our entire village is made up of migrants," Markovych says while cradling a tiny puppy in his arms.
"It was incredibly difficult at first," he recalls from his parents' accounts. "It was an empty field -- no houses or anything else."
Life improved slowly but then appeared to come to a sudden halt. The village became trapped in a separatist conflict in which it had no stake and dearly had wished to avoid.
Markovych said one of the first things the rebels did was topple a local monument dedicated to the "victims of repression -- Ukraine's Lemkos ethnic minority."
The village still has no reliable mobile network and only one functioning store. Locals cram on the one daily bus to to the regional centre -- also called Lugansk -- to stock up on food staples and basic supplies.
But Tetyana said the most serious tensions with the various gunmen have been resolved with time.
"In the past few months, our relations with the local authorities have normalised. They have even promised to restore our annual Lemkos day celebrations -- if they find the cash."