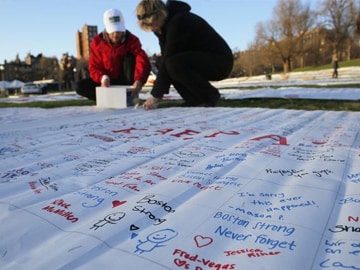 Boston:
U.S. officials on Friday charged a Kyrgyzstan national who bought dinner for the accused Boston Marathon bombers the night of the attack with interfering with the investigation into the deadly bombing.
Khairullozhon Matanov, a 23-year-old taxi driver who lives in Quincy, Massachusetts, appeared in court to face one criminal count of destroying records and three counts of lying to officials in a terrorism investigation.
Dressed in a white T-shirt and jeans, and unshaven, Matanov told U.S. Magistrate Judge Marianne Bowler that he understood English and did not require the assistance of an interpreter, and that he had no family in the United States.
"I am a cab driver," he said, when asked his occupation.
Prosecutors said in court papers Matanov had been friends with accused bombers Dzhokhar Tsarnaev and Tamerlan Tsarnaev, spoke with both in the days after the blast but lied to police about the extent of his relationship with the pair.
Matanov, who had hiked a New Hampshire mountain with Tamerlan Tsarnaev to "train like, and praise, the 'mujahideen,'" deleted searches related to the attacks from his computer, tried to dispose of cell phones he had used, and denied knowing much about the pair in interviews with police, prosecutors said. Mujahideen refers to Islamic guerilla fighters.
Bowler ordered him held until next Wednesday, when a hearing will take place to determine if he may be released on bail.
Matanov was not accused of playing a role in the April 15, 2013, bombing, which killed three people and injured 264.
His attorney, Edward Hayden, said Matanov had come to the United States in 2010 on a student visa to study at a local college. He was granted political asylum due to ethnic clashes in his homeland at the time, Hayden said.
"He's very frightened," said Hayden, who asked why authorities had waited so long to arrest Matanov.
"They've been investigating him over a year," Hayden said. "Why this morning?"
Matanov told an unidentified witness cooperating with the government that "the bombings could have had a just reason, such as being done in the name of Islam, that he would support the bombings if the reason were just or the attack had been done by the Taliban," according to the papers. He faces up to 20 years in prison if convicted of destroying evidence and eight years for each false statement count.
Matanov is the fourth person to face criminal charges for interfering with the investigation into the largest mass-casualty attack on U.S. soil since Sept. 11, 2001.
The others are three college friends of Dzhokhar Tsarnaev: Kazakhstan exchange students Dias Kadyrbayev and Azamat Tazhayakov, as well as Robel Phillipos of Cambridge. Prosecutors contended that after the FBI released photos of the suspected bombers, the three men realized the suspects' identities and removed a laptop and backpack containing empty fireworks shells from Dzhokhar's dorm room at the University of Massachusetts at Dartmouth.
© Thomson Reuters 2014