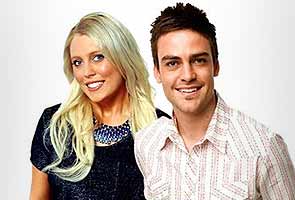 London/Melbourne:
The Scotland Yard today contacted their Australian counterparts for interviewing two radio presenters who made a prank call that apparently led to an Indian-origin nurse's suicide, as the Presenters were said to be in hiding amid global outrage.
46-year-old Jacintha Saldanha was found hanging at nurses' quarters next to the private King Edward VII hospital in Marylebone, central London on Friday, The Sun reported.
Scotland Yard is understood to have asked police in Sydney for assistance, with a view to interviewing the two presenters ahead of an inquest into Jacintha Saldanha's death.
A spokesman for the Metropolitan Police said: "Officers have been in contact with Australian authorities".
Nick Kaldas, deputy commissioner for New South Wales Police, confirmed the request, telling Sky News: "It hasn't been indicated to us that an offence has occurred and they have not actually asked for anything yet."
"They've simply touched base, let us know of their interest and they will get back to us if they actually want something done. Nothing has been requested of us yet," he said.
A New South Wales Police spokesman said: "As our policing colleagues in London continue to examine events leading up to the death of London nurse Jacintha Saldanha overnight, we will be providing them with whatever assistance is required."
A post-mortem examination is due to be held this week and an inquest opened and adjourned at Westminster Coroner's Court, Scotland Yard said. The death is not being treated as suspicious.
Saldanha answered the hoax call at 5.30am on Wednesday morning, and was helping out on reception at the time of the prank. Giggling Presenters Mel Greig and Michael Christian were pretending to be the British Queen and Prince Charles and asked her if they could be put through to Kate.
The Sydney radio presenters, Greig and Christian, behind the prank call that has been linked to the nurse's death are said to be in hiding and in a "fragile" state, undergoing intensive psychological counselling.
Sources told the Press Association that investigation was "likely" to be opened into the broadcast.
In a damning letter to Max Moore-Wilton, the chairman of Southern Cross Austereo, hospital chairman Lord Simon Glenarthur wrote: "King Edward VII's Hospital cares for sick people, and it was extremely foolish of your presenters even to consider trying to lie their way through to one of our patients, let alone actually make the call".
"Then to discover that, not only had this happened, but that the call had been pre-recorded and the decision to transmit approved by your station's management, was truly appalling," he wrote.
Moore-Wilton said: "We're considering that letter and I'll be responding to them after I discuss it with my board colleagues later today.
Police has said the cause of Saldanha's death was "unexplained" and an inquest is expected to open tomorrow, the Daily Telegraph reported.
The nurse's husband, Benedict Barboza, has said he was "devastated".
There was an outpouring of grief across Britain over the tragedy. The Duke and Duchess of Cambridge published a statement on their website to add their condolences, saying they were "deeply saddened".
Her son Junal, 16, and daughter Lisha, 14, were described as in "shock". Last night an online message believed to be from Lisha read: "I miss you. I loveeee you."