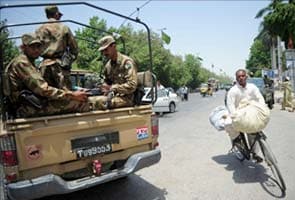 Karachi:
Pakistan's financial hub is the world's "most dangerous megacity", with a murder rate of 12.3 for every 100,000 residents and the expanding presence of the Taliban who run criminal and smuggling rackets, according to a media report.
Over the past decade, millions of people have fled the fighting and terrorism in Pakistan's northwest to settle in Karachi, the pulsing commercial heart of the country. But the flood of migrants in search of jobs and opportunity has brought Karachi some less savoury additions.
"As a result, Karachi is far and away the world's most dangerous megacity, with a homicide rate of 12.3 per 100,000 residents, some 25 per cent higher than any other major city," influential Foreign Policy magazine reported.
From 2000 to 2010, the city's population grew more than 80 per cent. That's roughly equivalent to adding more than New York City's entire population in just a decade, it said.
Over the past four years, processions and mosques of minority Shia community have been brutally attacked by Sunni supremacists, triggering a sectarian war. Besides, gangs tied to political parties run extortion rackets and land-grab schemes.
"More recently, Pakistani Taliban militants have also gained a foothold in the city, where they run criminal and smuggling rackets, rob banks, and administer a cruel and terrifying justice. Pitched firefights that go on for days between gangs, or between gangs and the police, are not uncommon," the report said.
The magazine reported while 202 murders had occurred in Mumbai in 2011, Karachi had 1,723. The figure crossed the 2,000 mark in the Pakistani city in 2012.