Paris:
Those walking to the Bataclan area in Paris today could almost miss the traces of an attack that left over 80 concert-goers dead on Friday.
The vibrant area, which is full of bars and restaurants, still seems full of energy; at cafes, customers sit on the sidewalks, filling almost all tables.
Then a closer look reveals that most in the crowd are journalists who have come from across the world to cover one of the deadliest terror attacks in recent times.
The traffic is unusually bad because boulevard Voltaire, where the concert hall is housed, is closed. Makeshift memorials have sprung up at many corners and the aroma of incense sticks wafts from them. There is a constant stream of visitors who leave messages, letters, candles, flowers, hearts and stuffed toys, and the posters with a message- 'Bullets don't equal bravery' , 'Terrorism has no religion' and 'You can't divide us'.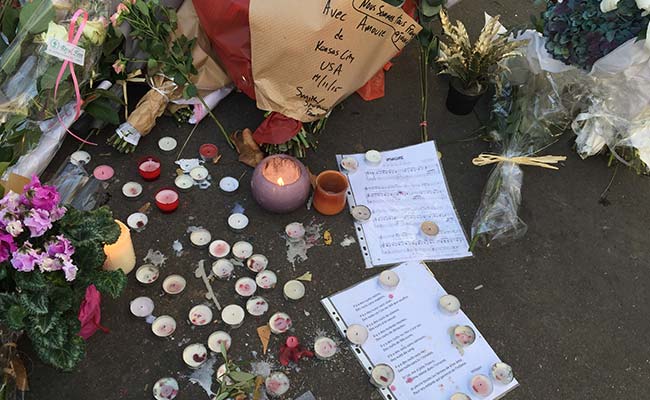 People are seen coming to the memorials and taking a quiet moment before moving on. Others stop to relight some of the candles that may have blown out. A woman was seen explaining what the memorial was all about to her four-year-old, who nodded in response and was heard saying goodbye when they left.
Locals explained to NDTV how the area was known for its Bohemian spirit, with cafes, bakeries called artisanal boulangeries, and many restaurants. Among the messages was the odd beer bottle with little notes attached.
At one corner was a sheet of music of the John Lennon song 'Imagine' and on another were lines in French from an Emily Dickinson poem. Even in mourning, Paris sees poetry.
The Bataclan concert hall was the scene of the worst of the bloodshed in Paris on Friday night that left 129 people dead. A full house of 1,500 people were attending a concert by the US band Eagles of Death Metal when gunmen wielding AK-47s stormed into the hall and opened fire.