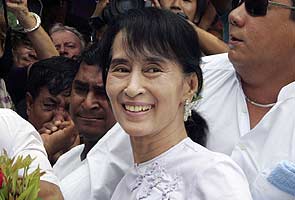 New York:
Myanmar's pro-democracy icon Aung San Suu Kyi has described Mahatma Gandhi and Jawaharlal Nehru among her "greatest sources" of influence, as she encouraged American students to read the works of India's Father of the Nation.
Suu Kyi, said Mahatma Gandhi, civil rights activist Martin Luther King and her father and "political mentor" Aung San were all men of principles and she read works by them to keep herself disciplined when she was placed under house arrest by her country's military dictators.
Addressing a packed hall of students at Columbia University here yesterday, where she got a standing ovation, the 67-year-old Nobel Peace Prize winner said she has been very inspired by Mahatma Gandhi's writings and strongly urged the students to read his works.
"Gandhi is somebody really phenomenal. I think you must all read his works, the more you read Gandhi, the more impressed you are by who he was and what he was," Suu Kyi said when asked who her greatest sources of influence have been in keeping her disciplined as she moved ahead toward her goals during her years as a prisoner of conscience.
"You must remember that change through non-violent means was not ever thought of before Gandhi. He was the one who started it, he was the one who decided that it is possible to bring about revolutionary change without violence," she said.
India-educated Suu Kyi said she "felt a little bit closer" to Jawaharlal Nehru since she had a similar education pattern as he had, having being educated in London, besides sharing a same kind of intellectual background with India's first Prime Minister.
Mr Nehru had also been a personal friend of her father's and given the Indian independence movement had taken place around the same time as the Burmese movement for freedom, there were "very close links" between the leaders of the two countries, she said.
Suu Kyi was awarded the Jawaharlal Nehru Award for International Understanding by the government of India in 1992.
Suu Kyi recalled that she remained focussed during the 15 years she was placed under house arrest and read the speeches and writings of her father, considered the founder of the Burmese army, Gandhi and King to remain disciplined.
She said she had decided that, "I am not going to give them (military dictators) the satisfaction of knowing that I have become less disciplined and that I dissipated those years under detention. I tried to get as much out of those years as I could get."
"I meditated, read, listened to the radio, exercised. I think I was the healthiest prisoner of conscience in the world," she added.
On what message she has for those who now consider her as their source of inspiration, Suu Kyi said they must build their lives on principles and sense of duty.
"One of the best things about leading a principled, duty conscious life is that you learn to take responsibility for your own actions and not to keep blaming others for whatever happens to you," she said, adding that the biggest weakness of Myanmar's previous military regime was that it blamed others for all that went wrong in the country.
"They never once blamed themselves, everything was due to what the British colonial government had done way back in the past. They did not take responsibility for their own actions," she said.
Suu Kyi is on a 17-day coast to coast trip of the US, during which she has met President Barack Obama, Secretary of State Hillary Clinton and UN Secretary General Ban Ki-moon.
Suu Kyi was also awarded the Congressional Gold Medal, the highest civilian honour in the US.
When asked at Columbia as to when would she run for President of Myanmar, she said the president of her country is not elected directly but by the legislature.
"So it depends on how soon the legislature becomes free and independent," which would also require changing the constitution, she added.
As Suu Kyi, who is now a member of the Myanmar Parliament and opposition leader, begins her political journey, she said she envisions a future for Myanmar that includes "some of the good things we had in past, but we must also move on with the times."
She said she was born in a different Burma which was run as a parliamentary democracy after it gained independence in 1948.
But when the military regime took over in 1962, symbols of a free democratic society like newspapers, free to represent different points of views, became a thing of the past.
"Gradually people became more and more afraid to speak their minds, there was fear everywhere. This contrasted so strongly from what I remembered of my childhood," she said.
When asked what lead Myanmar's military rulers to open up the country gradually, Suu Kyi said the economic mess that the country was in convinced the regime that they have to "do something about it. They began to understand that they could not cope on their own."