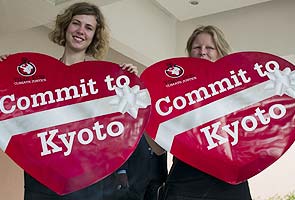 Cancun:
In what could be trouble in the long term for everyone on the planet to control greenhouse gasses, Japan has said that it will not agree to signing on to the second term of the Kyoto Protocol.
"There is no question of extending the second commitment period. It's is not in our national interest,"
Japanese Environment Minister Ryu Matsumoto told his
Indian counterpart Jairam Ramesh during a meeting
.

After the meeting, Ramesh said the Japanese made it
clear that their stance was not a "negotiating tactic" and
their decision "calls into question the existenceof Kyoto."
.The Kyoto Protocol has been the main platform on which the entire climate change talks have been progressing.
It was drafted in 1997 in Japan and adopted as the way forward under the United Nations Framework Convention on Climate Change (UNFCCC) to tackle climate change.
Under the protocol, countries were put in Annexure 1 and 2 - 1 being the list of developed nations on whom the burden of providing finance, technology and also reducing their carbon emissions was put as it was accepted that the developed nations had primarily been responsible for climate change.
The US never signed up, saying that it left out countries like India and China whose emission had increased.
Japan's instance is also due to lobbying by the US which wants India and China to also commit to emission reduction cuts. Russia and Canada have also said that they are not in favour of extending Kyoto.

THE COLLAPSE AT CANCUN
Japan refuses to sign second term for Kyoto Protocol
Russia, Canada not in favour of extending Protocol
Kyoto Protocol was the basis of climate change talks
Under Kyoto, rich nations held responsible for climate change
US never signed Kyoto Protocol
THE IMPLICATIONS
Rich and most polluting countries like US will get away
Big push to make Copenhagen Accord the blueprint
Copenhagen accord asks for only voluntary action to cut emission
Cancun setback: India, China isolated
Meanwhile, in a huge setback for India at the climate summit in Cancun, the four BASIC countries including India, China, Brazil and South Africa, which have so far been united in their stand on the issue of emission cuts, are now deeply divided.
Brazil and South Africa now say they are open to the idea of legally binding emission cuts. Till now, both countries were one with India and China wanting developing countries to only accept voluntary emission cuts.
And it's not just the divide among BASIC countries that India has to contend with. Several G-77 countries are now saying that all developing countries should accept legally binding emission cuts.
India and China are hence getting increasingly isolated among the Group of 77 developing countries.