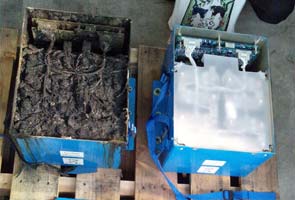 Tokyo:
A picture released Friday by Japanese investigators probing the emergency landing of a Dreamliner that grounded the Boeing 787 worldwide showed the battery was apparently charred and blackened.
Scorch marks were evident on the blue casing of the aircraft's main battery which also showed evidence of some kind of a seemingly tar-like liquid that appeared to have boiled over and leaked down the side.
The picture, released to the media by the Japan Transport Safety Board showed the lid of the battery casing had bulged out of shape and become badly discoloured.
The battery, which was removed from the plane's main power unit at the front of the plane, sits on a wooden pallet next to the fully intact battery from the rear.
That battery has a white casing over the top of what media said was eight cells, connected with a series of pathways.
Much of what looks like wiring around the cells on the plane's main battery is badly disfigured.