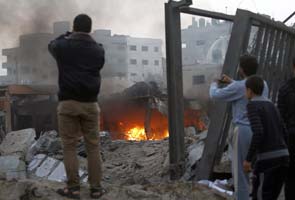 Gaza City, Palestinian Territories:
Israeli air strikes across the Gaza Strip killed 10 people early on Monday, raising the Palestinian death toll to 87 as as Israel's relentless air campaign entered its sixth day.
The latest to die were Ibrahim al-Astal and Obama al-Astal, two farmers who were killed in a strike in Qarara, east of Khan Yunis in the southern Gaza Strip, the Hamas-run
Shortly before that, three people were killed in a strike on a car in Deir al-Balah in central Gaza, all of them from the same family: Amir Bashir, Tamal Bashir and Salah Bashir, Qudra said.
In Gaza City, two women and a child were among four killed in a strike on the Zeitun neighbourhood -- Nisma Abu Zorr, 23, Mohammed Abu Zorr, 5, Saha Abu Zorr, 20 and Ahid al-Qatati 35,
And medics said another man had been found dead in the northern town of Beit Lahiya, naming him as Abdel Rahman al-Atar, a 50-year-old farmer.