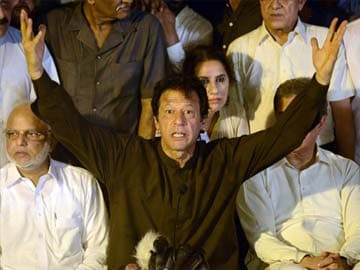 Islamabad:
Cricketer-turned politician Imran Khan and members of his political party Pakistan Tehreek-e-Insaf or PTI will march from Lahore to Islamabad at around 6.30 pm today, in what is expected to be the largest protests organised by the opposition since Pakistan Muslim League-N leader Nawaz Sharif came to power last year.
A Pakistani court had on Wednesday restrained Mr Khan and Canada-based populist cleric Tahir-ul-Qadri from launching a march on Islamabad.
Mr Qadri is expected to flag off his march from Lahore today evening.
Authorities had blocked almost every entry point to Islamabad on Wednesday, with more than 20,000 police and paramilitary forces deployed to try to thwart the anti-government rally.
Major roads were barricaded with shipping containers and police used excavators to dig up smaller roads in Islamabad, a day before two opposition protest marches are due to converge on the capital.
But Mr Khan and his followers will be allowed to enter the city, the government has said.
Earlier in the day, Mr Khan tweeted, "Wishing all Pakistanis a happy Independence Day. Today we embark on our Azadi March to bring true democracy & Naya Pakistan".
Mr Khan and Mr Qadri will hold the march today, which is Pakistan's independence day, to demand Mr Sharif's resignation and seek fresh elections.
Both Mr Khan and Mr Qadri, who led mass demonstrations in Islamabad early last year to urge electoral reform, allege that the May 2013 general election, which brought Mr Sharif to power, was rigged.