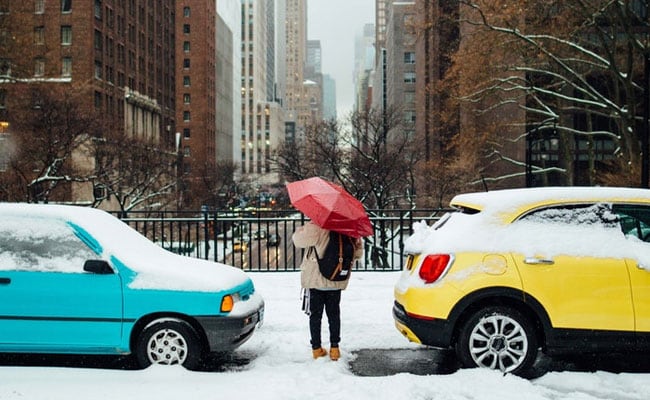 WASHINGTON:
It was too cold to, among other things, ice skate Thursday morning. Washington woke to its coldest December morning in almost a decade, and the frigid and the frightened braced for what promises to be the chiliest stretch of winter in two years.
Much of the country was locked in the record-breaking freeze as relentless waves of cold air swept down from the high latitudes. The north central parts of the United States could see tempartures fall 40 to 50 degrees below their normal year-end marks in coming days. Forecasters say the nation's average low will be a feeble 10 degrees when 2018 begins Monday, with a third of the country seeing averages below zero.
In our region, polar protocols kicked in at pre-schools, zoos, utility stations and even ice rinks. At the National Gallery of Art's outdoor ice rink on the National Mall, the morning thermometer was in the teens when officials invoked the below-20 rule. Any colder is deemed too risky for the skin of little skaters and the ice guards who swoosh around them.
"We'll be open at noon," staffer Tay Hummons said to skater after skater who walked-or wobbled, depending on their number of layers-up to buy tickets. He himself was taking advantage of the empty ice to work on his hockey stops, even though colder ice is less forgiving and needs more treatment from the Zamboni. "This is like skating on concrete," he said, spinning away.
Is this deep chill the return of that villain from the top of the world that spread a brittle icy blitz over the region in 2015? We go now to the Capital Weather Gang's Jason Samenow:
"I'm kind of picky about when I invoke the Polar Vortex; I reserve it
for the crème d la crème of cold," Samenow said, who is predicting even frostier air from the far north in coming days. "I might bring it out next week."
Whatever you call it, the plunge in temperature was more than enough to trip crisis measures across the region. The District of Columbia government declared a "cold emergency," mobilizing additional resources for the homeless. Almost 1,500 filled city shelters Wednesday night, officials said. With overnight lows in the single digits forecast overnight Thursday, surrounding counties also announced plans to expand shelter and open additional hypothermia stations.
"People living on the street are at risk all year round, but the cold exacerbates that risk," said Lindsay Curtin, director of outreach at Miriam's Kitchen. Her group has begun distributing hats, gloves, socks, and sleeping bags to people in need.
Animal welfare groups focused on the frozen furry. People for the Ethical Treatment of Animals asked residents to put out water for the local birds and break open the ice twice a day. (But not in a metal bowl, they warned: little bird tongues can stick too.)
There was an uptick in tiny coats and sweater sales at Big Bad Woof, a pet store in the District, according to owner Julie Paez.
But at the National Zoo, the animals braved the cold without clothing. (Yes, yes. The lions and tigers were bare. Oh my.) The big cats were out and about, including the cheetah that paced behind Olena Rymsha, a recent transplant from Ukraine to Arlington. It wasn't too cold for her either. "We like nature, we like to walk," she said.
The panda was out, the bison too. The sea lions cavorted. In all, the real animals endured better than the fake ones. The popular carousel lined with carved elephants and ostriches was frozen in place, its oil too viscous to operate when it dips below 35 degrees.
The last week of the year was already at a lower metabolism as most students and many workers took a holiday vacation, but the deep freeze threatened to slow it to a reptilian stand still. Orange and Blue line trains were forced to single-track around a cracked rail near rail near Potomac Avenue Station, a defect that often occurs in hard freezes.
At the Central Wood Car Wash in Largo, Maryland, owner Paul Earp turned on the big conveyer belt only to discover a cold-fractured sprocket. But there is no temperature too low for some drivers to get their cars scrubbed, so he fixed the part, remixed his soapy spray to account for the frigid temperatures and laid on extra heaters for his staff.
"The front of the car tends to freeze and so do the rims," manager Michael Allen said from beneath his scarf, ski cap, hoodie, jumpsuit, gloves and long underwear. "We try to apply the tire shine before it freezes."
School systems were quiet Thursday, but preparing for students to return during the continuing cold wave. In Montgomery, emergency "cold starting teams" will arrive at the bus depots by 4 a.m. plying the balky diesel engines with ether or starting them with portable generators. In Loudon County, officials plan to run the furnaces up to 71 degrees Monday, pre-heating the classrooms for students to arrive Tuesday.
The year is ending at a far different Fahrenheit than 2016 did. It was nearly 70 degrees on Dec. 27 last year, and people noticed.
"What happened?" said Stacie Nelson, 48, from Flint, Michigan, as she nursed a warming cup of mulled wine at the sculpture garden café outside the National Gallery.
Nelson was making a repeat holiday visit to the nation's capital with her friend Tom Ginter, 56, a salesman at Michigan Saw and Tool. Both remember the T-shirt weather of their last trip, which they preferred. For this they could have stayed in the upper mid-west, which is getting its own cold blast, including snow.
"We still love it," she said, as they headed out to visit the U.S. Navy museum.
It wasn't clear whether Maryland Gov. Larry Hogan, R, would have taken a 1.5-mile walk through Annapolis Thursday if not for his role in the Military Bowl parade before the Navy-Virginia matchup (game-time temp: 24, final score: 49-7 Navy).
"It's not that cold out here," Hogan maintained, wearing gloves and a blue-and-yellow Navy cap on his head.
This is the season of the diehard, of course. The guy on K Street walking to lunch in his shirt sleeves. The Arlington police officer in the Kevlar vest but with bare arms and no hat. Coats can be dangerous, asserted the cop who declined to give his name. "It gets in the way," he said. "And it's easier for someone to grab."
Tim Hershner, 31, was sockless as he walked his goldendoodle, Junebug, outside an Arlington, Virginia, apartment building. But that was more expediency than endurance: Junebug really had to go.
"This is nooooooot fun," he said, scooping her up and turning for home.
(This story has not been edited by NDTV staff and is auto-generated from a syndicated feed.)