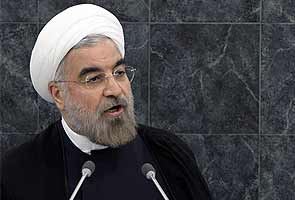 United Nations:
The Iranian president's first speech to world leaders was absent anti-Israel rhetoric and offered up negotiations with the US and its allies over the disputed nuclear program, showing a more moderate face of the hard-line regime in Tehran.
However, Iranian President Hassan Rouhani also took repeated digs at America and the West on Tuesday, much like those that were staples of his predecessor's annual messages to the United Nations General Assembly.
Rouhani's speech signalled Iran's return to a more measured, if still resolute, approach in its foreign policy even as it delivered a reality check that diplomatic warming will not come quickly or easily.
Karim Sadjadpour, an Iran expert at the Carnegie Endowment for International Peace in Washington, said he did not think Rouhani's speech was conciliatory. But his predecessor Mahmoud Ahmadinejad "set an incredibly low bar for dignified behaviour" and Rouhani delivered a less polarizing, less divisive speech, he said.
"Given how vitriolic that Ahmadinejad's language was, in contrast he certainly appears as a moderate," Sadjadpour said.
Rouhani even went a step further in an interview with CNN airing on Wednesday, saying "the crime the Nazis created toward the Jews is reprehensible and condemnable."
Ahmadinejad, in contrast, once called the Holocaust a "myth" and later said more research was needed to determine whether it had really happened.
And while Rouhani briefly touched on what he described as Palestine's depravation and subjugation, he also ended his speech with a reference not only to the Quran and Bible, but also the Torah.
Israel, however, was not pacified. The Israeli delegation walked out of his speech, and Israeli Minister for Strategic and Intelligence Affairs Yuval Steinitz called his rhetoric a "game of deception."
"Rouhani came here today in order to cheat the world," Steinitz told reporters in a hastily organized news conference at the U.N. after the speech. "And unfortunately many people are willing to be cheated."
The day began with breathless speculation that America and Iran would start to bury decades of suspicion and animosity with a handshake and an exchange of pleasantries if they crossed paths inside the U.N. But the euphoria was fading by midday, when Rouhani skipped a lunch where he could have greeted President Barack Obama.
He may have passed on lunch because alcohol was being served - something that could have been shameful for the devout Muslim back home.
Rouhani spoke just hours after Obama also addressed the General Assembly. The American leader spoke of the years of isolation between the two nations since the 1979 Iranian revolution that spurred the storming of the U.S. Embassy in Tehran.
Obama said he needs proof of Iran's goodwill before the U.S. would be willing to shift its tough stance against the country's nuclear program, a reference to harsh sanctions that Washington has imposed.
While Ahmadinejad had insisted that Iran continued to flourish despite the punishing Western sanctions, Rouhani called them "violent" and said they violated human rights. Iran is seeking relief from the sanctions at nuclear negotiations.
Experts said Rouhani's speech may have marked a return to the subtle rapprochement of former Iranian Presidents Akbar Hashemi Rafsanjani and particularly Mohammad Khatami.
Standoffs with the West over nuclear activities and Syria now stand as key tests of whether relations will improve.
World powers for years have tried to curb Tehran's nuclear program to prevent Iran from being able to build a bomb. But Iran insists its program is peaceful, and has long demanded the world recognize its right under international treaties to enrich uranium - a process that can be used to produce fuel for nuclear weapons or nuclear energy.
Rouhani said Iran is prepared to immediately engage in nuclear negotiations on condition that the world acknowledge it has the right to enrich uranium. He said all nations - and not just Iran - should publicly commit to building nuclear programs for peaceful purposes only.
Israel's Steinitz said in reality, little has changed in Iran since Rouhani was elected in June.
"Not even one centrifuge was stopped," he said, referring to Iran's enrichment of uranium.
On Syria, Rouhani repeated Iran's condemnation of the use of chemical weapons. But he said the greatest danger to the Mideast would be for chemical weapons to fall into the hands of extremists and terror groups, and said any negotiated disarmament plan in Syria would have to prevent that.
The Syrian regime frequently refers to the opposition as terrorists.
The U.S., France and Britain accuse Assad's regime of launching an Aug. 21 chemical attack on the Damascus suburb that killed more than 1,000 people.
Iran is considered Syria's main benefactor and Tehran has been a lifeline for the regime of Syrian President Bashar Assad in its 2 1/2 year sectarian civil war with opposition rebels.
Western officials are hoping Iran will play a role in ending the Syrian war. And Rouhani appeared willing to sanction Iran's participation in negotiations for a peace settlement in Syria, French officials said. That could put more pressure on Assad.
Obama said it was unrealistic to expect that the U.S. and Iran would see eye-to-eye any time soon or easily bridge the chasms between them.
"I don't believe this difficult history can be overcome overnight - the suspicions run too deep," he said. "But I do believe that if we can resolve the issue of Iran's nuclear program, that can serve as a major step down a long road toward a different relationship, one based on mutual interests and mutual respect."
Neither Obama nor Rouhani attended each other's speech. But Rouhani said he had followed Obama's words and was confident the two nations can manage their differences.
"There is no issue or dossier that cannot be resolved through reliance on hope and prudent moderation, mutual respect, and rejection of violence and extremism," Rouhani said.