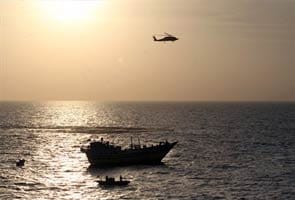 Tehran:
Iranian naval forces have rescued an American commercial vessel that was attacked by several pirate boats near the Gulf of Aden, Press TV reported on Thursday.
The Public Affairs Office of the navy said in a statement on Thursday that after receiving a distress signal from the American vessel, a naval fleet of the Iranian navy, which was on a patrol mission in the area, sailed towards the US ship.
The pirate boats fled the area immediately as they spotted the approaching Iranian naval forces.
The crew of the US ship thanked the Iranian naval fleet for its timely response to their request for help, the report said.
The American vessel then continued safely on its journey toward its intended destination, the statement said.
In line with international efforts against piracy, Iran's navy has been conducting anti-piracy patrol in the Gulf of Aden since November 2008.
The Gulf of Aden, which links the Indian Ocean with the Suez Canal and the Mediterranean Sea, is the quickest route for more than 20,000 vessels travelling annually between Asia, Europe and America.