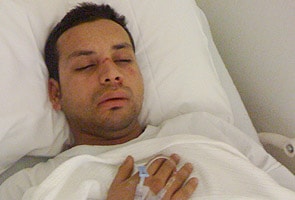 Melbourne:
An Indian student, who was hospitalised with multiple jaw fractures after being brutally beaten up by a group of six youths here, will not be able to eat for up to five weeks and also cannot talk properly, according to one of his friends.
24-year-old Bharat Thapar, who was assaulted on Monday night in South Oakleigh, is recuperating in a hospital with plates in his jaws and "bruises all over his body".
Quoting Thapar's friend Sumeet Khanna, 'The Age' reported today that the victim was unable to talk properly after a brutal confrontation with six youths that left him with four fractures in his lower jaw. Meanwhile, police said they were investigating a number of conflicting reports about the incident as to who started the argument that led to the brawl.
Khanna had earlier said that two of his friends, including Thapar, had been driving through the Oakleigh area when they saw another Indian man being abused by a group of youths. "Bharat went to his aid and he said that up to six of them had turned on him, beating him and abusing him, telling him to 'leave this place'," according to Khanna. "He's still in a bad way and will not be able to eat for up to five weeks," Khanna said, adding police had failed to interview the witnesses.
According to a Victoria Police spokesman, the initial incident appeared to have been sparked when somebody parked a car in front of a mechanic's workshop and refused to move it. A group of men then physically moved the car and a scuffle is believed to have developed, he said. Thapar arrived with his friend in a car and the confrontation escalated.